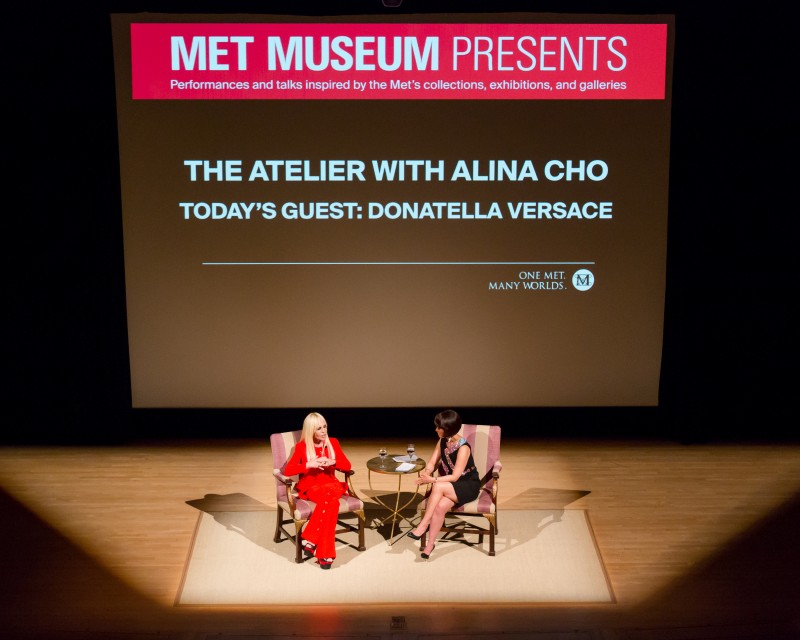 Donatella Versace joined Alina Cho at the Metropolitan Museum of Art to discuss fashion and the arts, as part of Cho's series, "The Atelier With Alina Cho". During the chat, the iconic designer hinted at her Met Ball frock, what it's like to be the new face of Givenchy, and her friendship with Lady Gaga. The designer's had a pretty great year, and she's high hopes that 2015 will exceed all expectations. The night ended with a refreshing dose of advice for the next generation of designers in the room. Nothing is slowing Versace down anytime soon!
BY EMMA MIKHAILOFF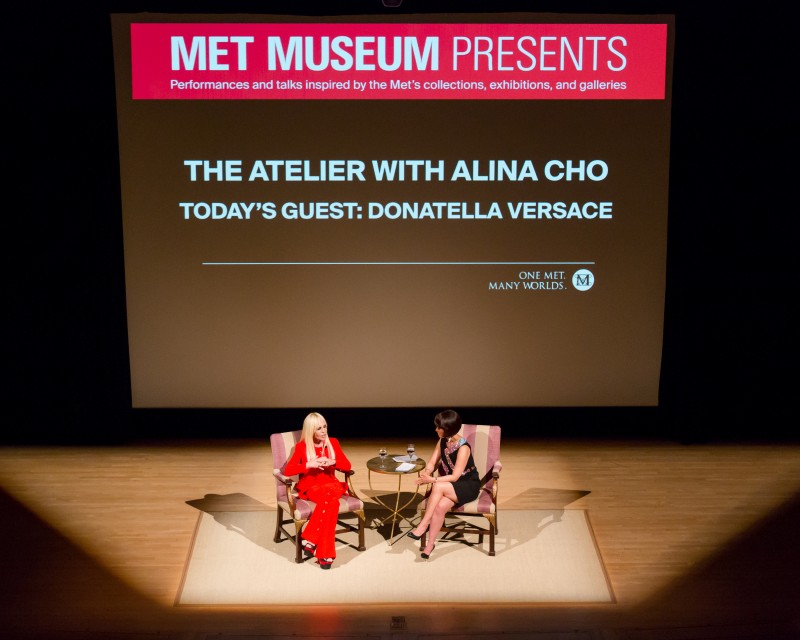 On being the face of Givenchy: "Riccardo Tisci wrote me an email, we've been friends for a long time. Riccardo said I was his inspiration for many years, I'm like family. Fashion is about breaking rules, and I'm very happy I did it."
Her date to the Met Ball is… "Jennifer Lopez. I don't date women… yet. She's a very good friend of mine for many years; when she heard it was about China she was very excited, we worked together on the dress. She'll look great from the front, and even better from the back!"
And Donatella's dress will be: "Inspired by Chinese symbols" [Ed. Note: The dress will include emojis and hash tags!]
Why she's really into the Met Ball's latest theme: "We always forget the heritage and culture of China. It's very important [to the brand]. The first [Versace] store opened in China in 1982 and it was the first designer store. Now there are 35 of our stores in China.
On what it means to hand over Versus to Anthony Vaccarello: "The message I'm trying to convey is that you don't need to be afraid in fashion, fashion is a continuous involvement. You have to evolve."
Her feelings on social media: "I love it; I can talk to the world if I want to right now! My dog's on Instagram, her name's Audrey and she's fabulous!"
On staying comfortable: "I love Versace jogging suits with the Medusa. I don't wear flat shoes…ever!"
On dressing celebs for the red carpet: "Versace were the first ones to really start the red carpet. Now you don't remember the movie but the dress. It's very important the way they present themselves. I love women's bodies and I want them to look their best."
Her two BFF's: "Lady Gaga is crazy and I love her, I want to know what she can bring into this world. She has an incredible brain Lady Gaga, and she's so talented. Madonna is my most loyal friend for years; she'll always be an icon."
Advice to new designers: "Be ready to suffer! It wasn't easy for my brother when he started. It wasn't easy for me, you need to push yourself.When you make something good, ask is it good enough? Be daring. Do what influences you; look for what is not on the market. You know when something has potential."