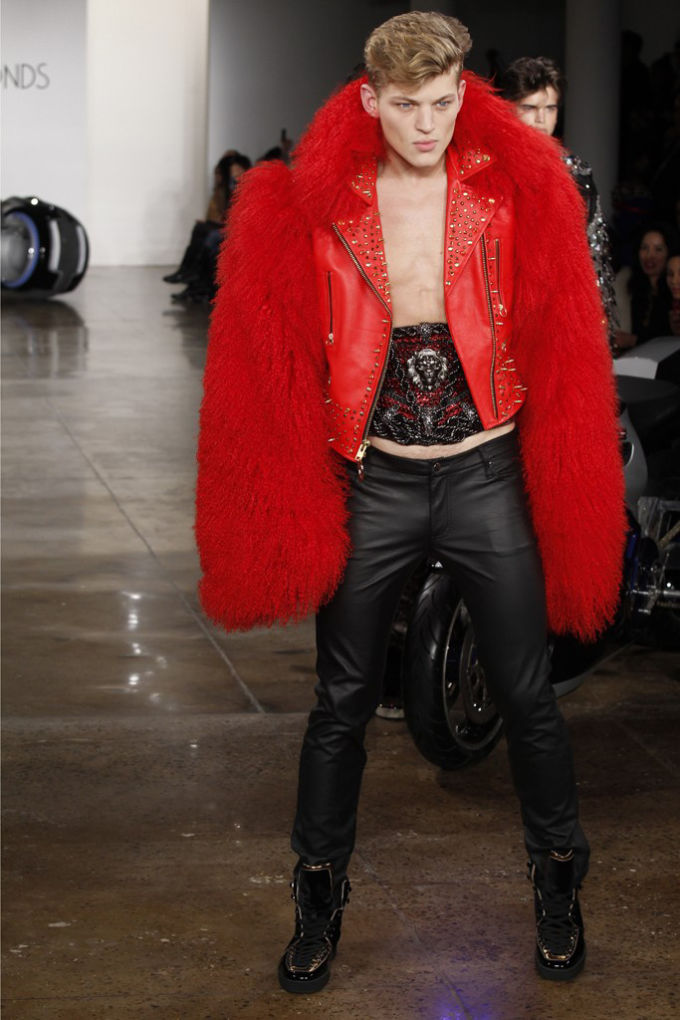 Men's fashion has become one of the biggest industries. What we see walking down the runway months in advance eventually makes their way to the shops and the streets, convincing us to spend money on new clothes to try out the latest trends. But what about the crazy, outrageous, and downright unwearable things that no one has the balls to wear?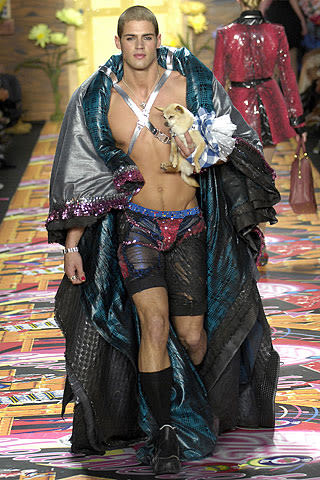 While we totally respect designers for their vision and talent, sometimes their ideas do not translate to what guys really want to wear. Guys like Thom Browne and labels like Maison Martin Margiela have designed plenty of clothes that perfectly capture what men's style should be... but other times they're a little off the mark.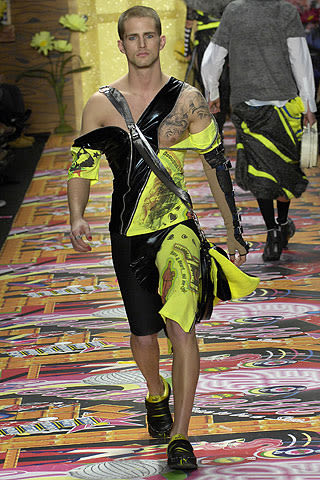 Look, Jordan missed a few shots in his heyday, so they shouldn't sweat it. But sometimes the runway sees some outfits that aren't aspirational... they're just mental. Here are The Craziest Looks From the Best Menswear Designers.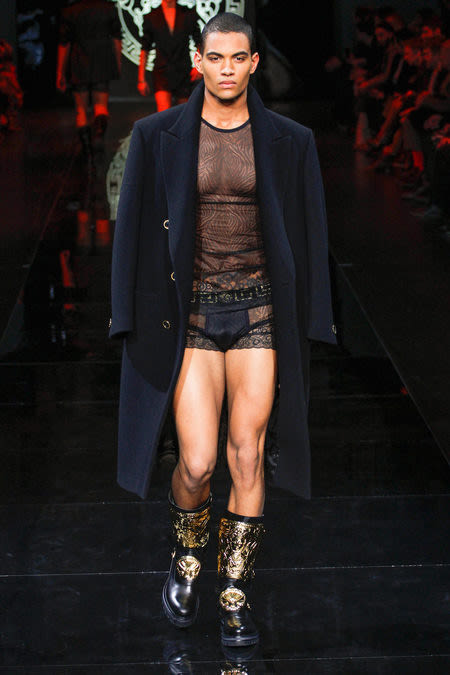 Versace
Designer: Donatella Versace
Season: Fall/Winter 2013
Versace is one of the biggest houses in fashion, and the baroque print is bigger than ever. However... it doesn't look good on all menswear. Take these mangerie looking pieces for example. Lace garments are best left to the ladies, there's a reason why it's Victoria's Secret... not Victor's.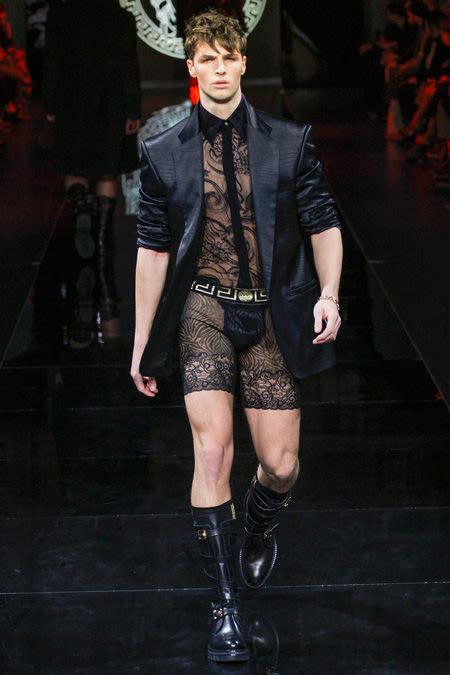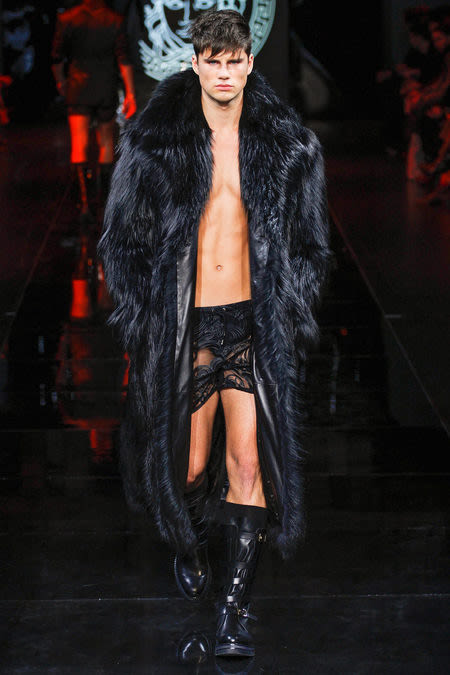 Fendi
Designer: Karl Lagerfeld
Season: Fall/Winter 2012
Historically, the house of Fendi produces the highest-quality luxury goods, and is known for its revolutionary use of garment treatments and high-end materials like fur. To the average joe, however, all this fur-on-fur action might evoke notions of teddy bears, grizzly men, or some weird, unholy combination of both.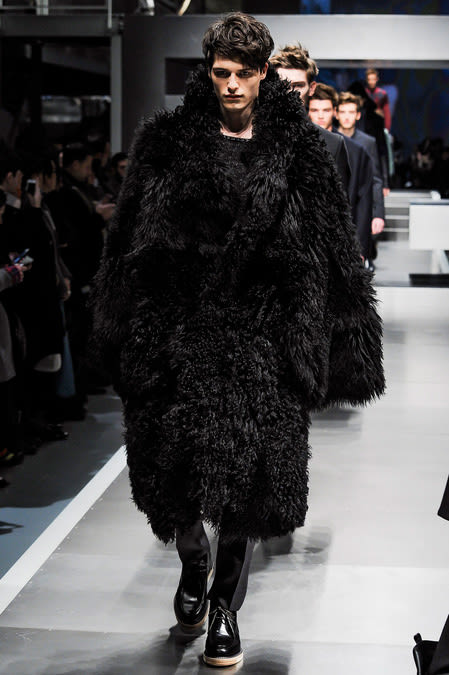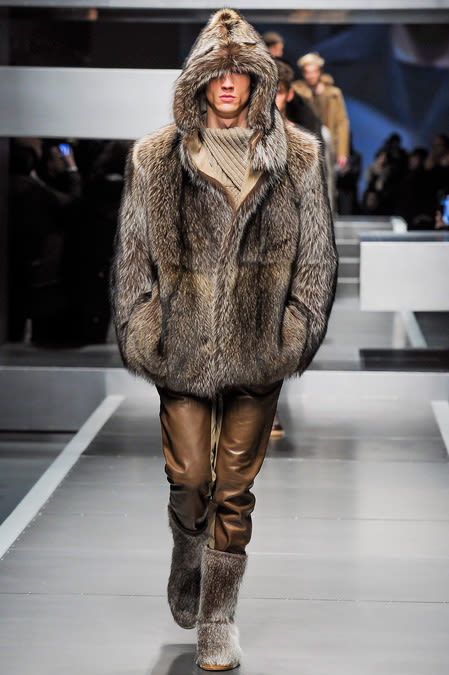 Designer: John Galliano
Season: Spring Summer 2009
Love him or hate him, Galliano is one of fashion history's greatest designers. When he gets a theme he really sticks with it. This particular season was inspired by anime, manga, and punk rock, but it ended up looking like a bright and zesty version of Pirates of the Carribean. Maybe that's because unlike actual human beings, many anime characters have naturally
Kool-Aid blue hair
.

Perhaps if you just wore a piece or two with more subtler clothes, it might work... but when it's all together, it just looks like a really horrible rave where everyone's an idiot.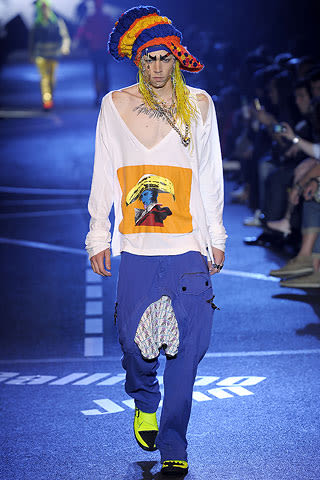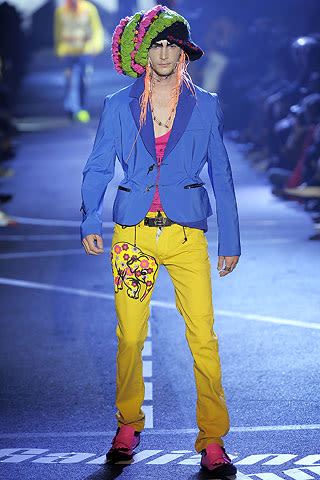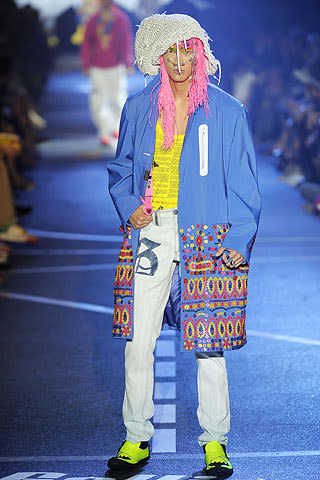 Heatherettes
Designer: Traver Rains and Richie Rich
Season: Fall/Winter 2007
The now defunct Heatherette used to be one of the biggest spectacles of New York Fashion Week. Buzz aside, the menswear was a bit well... out there. For example, there wasn't a single thing in this Fall/Winter collection that could actually keep you warm. From see-through one-piece suits to tops that make you look like a rotten banana, nothing that walked down the runway resembled anything remotely wearable. But that dog is adorable.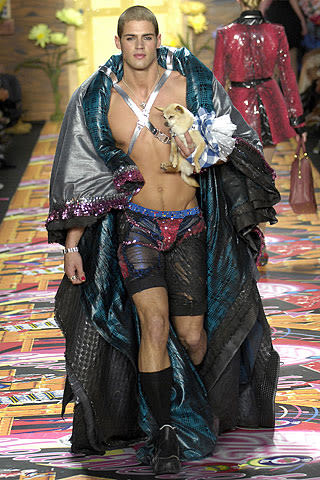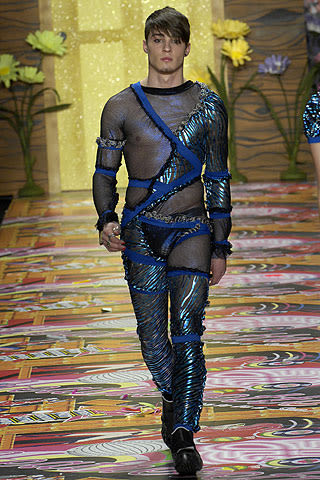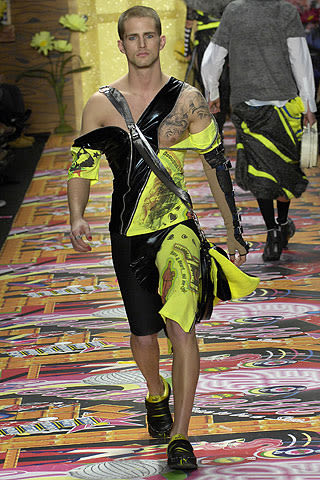 Designer: Donatella Versace
Season: Spring/Summer 2013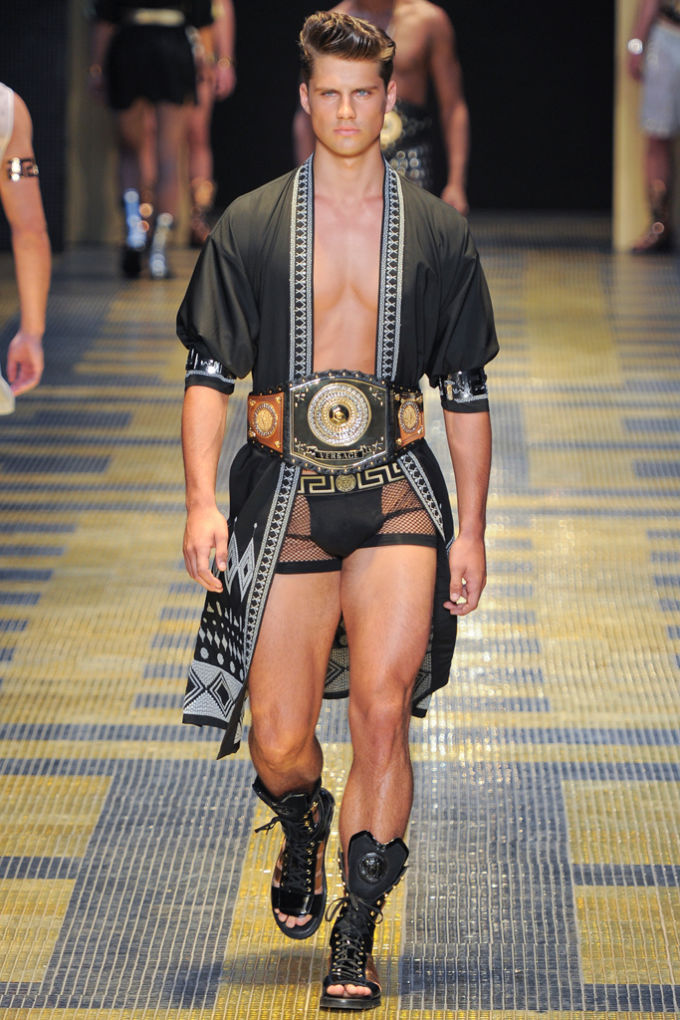 Inspired by Rocky Balboa and Elvis for this particular collection, huge belts and skimpy briefs feature prominently. We're surprised we haven't seen any
WWE Superstars
rock these looks in the squared circle. Although if someone wore that elongated tank top and gladiator boots into the ring, they might get bodyslammed by the fashion police.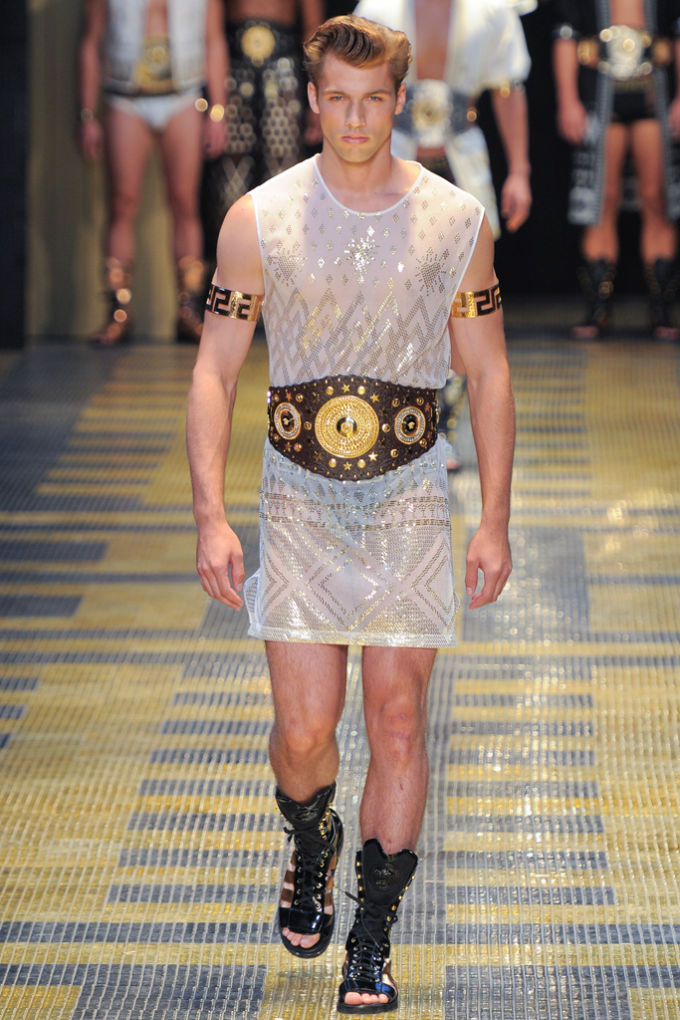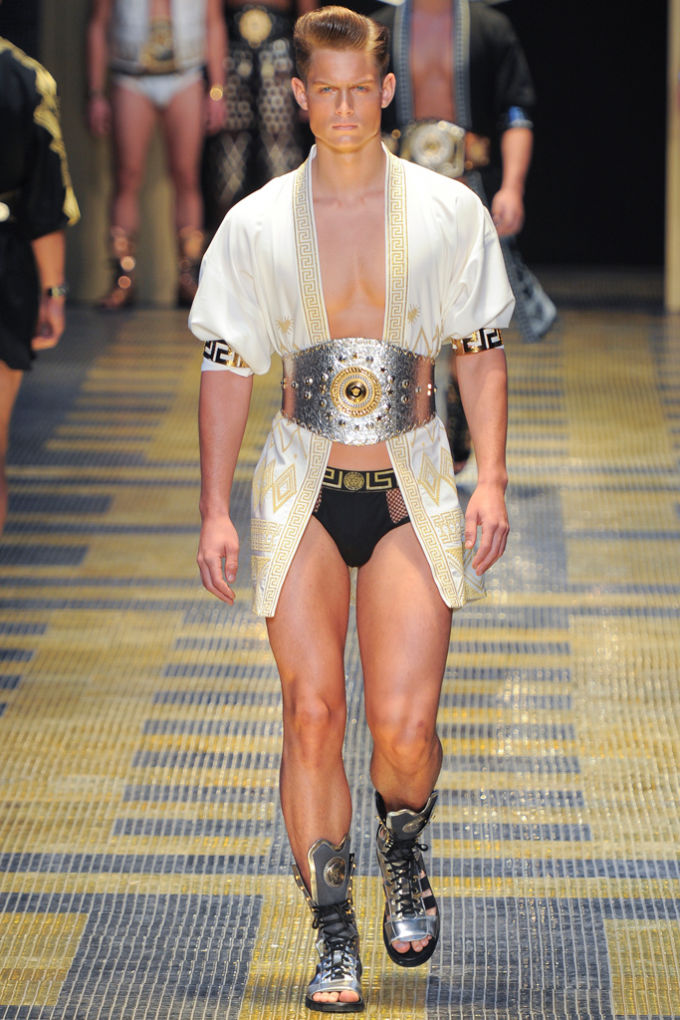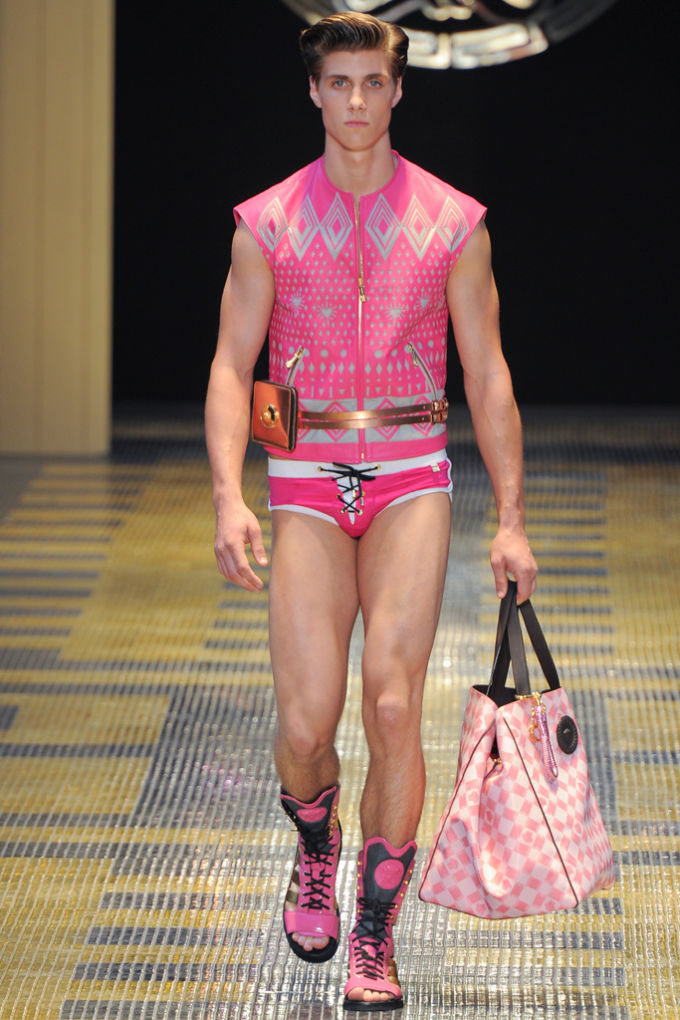 Designer
:
Thom Browne
Season
: Spring/Summer 2014
Thom Browne took inspiration from the military for his latest collection. In the lauded menswear designer's vision, that meant everything but camo. There's always hidden messages in fashion—this one plays on notions of gays in the military—but the one thing that's clear is that these garments are purely for show. Browne's commercial collections translate the bright colors and patterns presented on the runway into wearable, expertly-tailored cuts any guy can appreciate.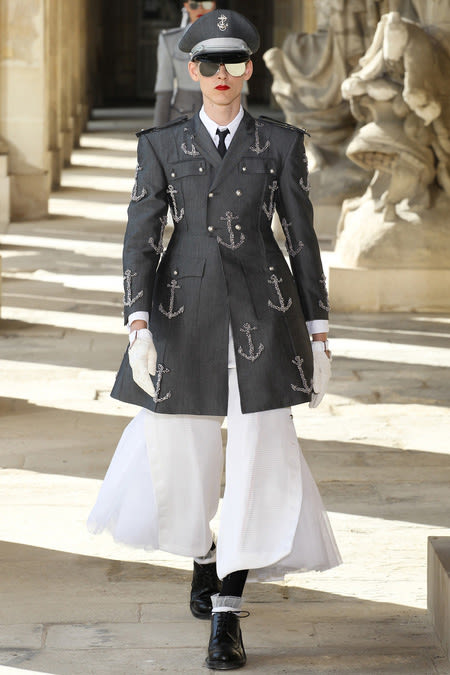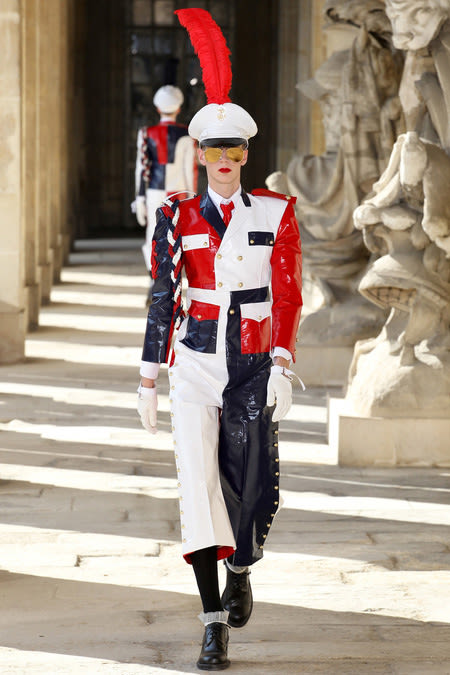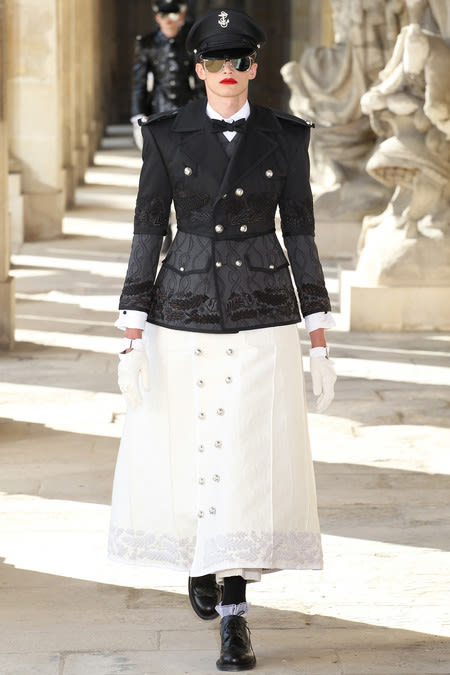 Designer: Sid Bryan, Joe Bates, and
Cozette McCreery
Season
: Fall/Winter 2013
Knitwear and design skills aside, because the trio that designs Sibling are some of the most talented designers in the business, but these knit looks have to weigh a ton, not to mention the fact that they look like overgrown Teletubby outfits. The sweater adorned with "Please Kill Me" probably mirrors the sentiment of these models perfectly.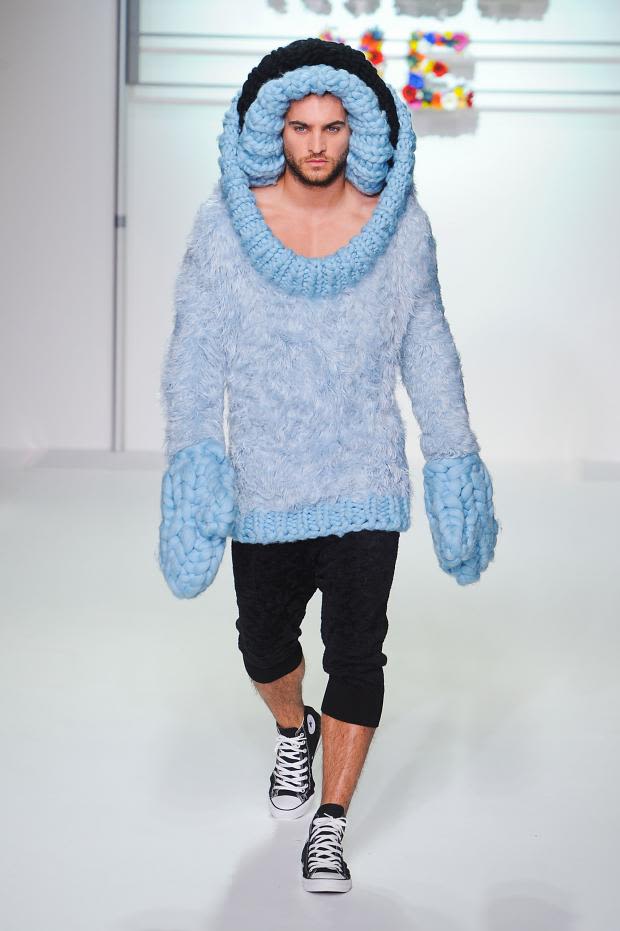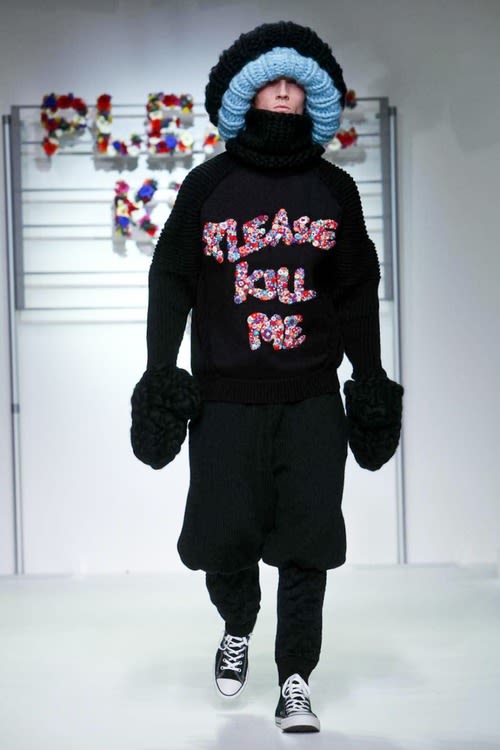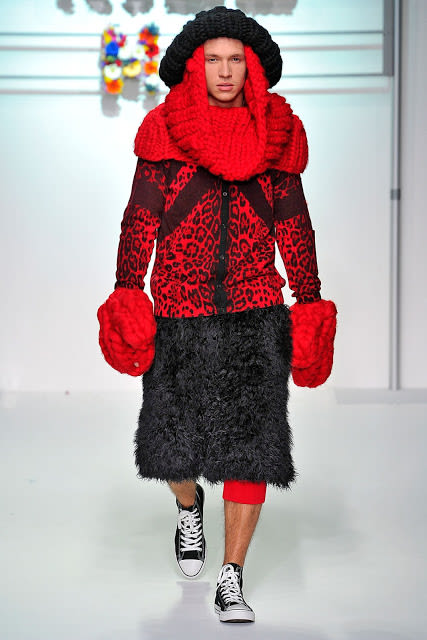 Designer: John Galliano
Season: Fall/Winter 2007
Tim Blanks wrote in his
style.com review of this collection
, that it "defied any type of critical evaluation of its individual components," because the presentation was spectaular, and we agree. These guys look like walking demigods, samurai warriors, and even at times like the cuddly monsters from
Where The Wild Things Are.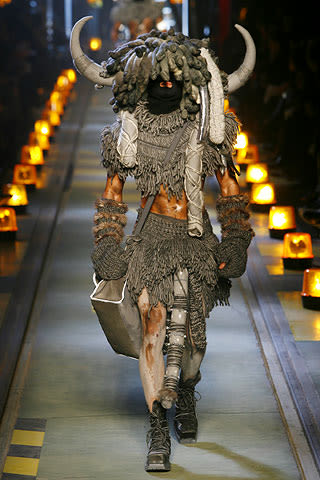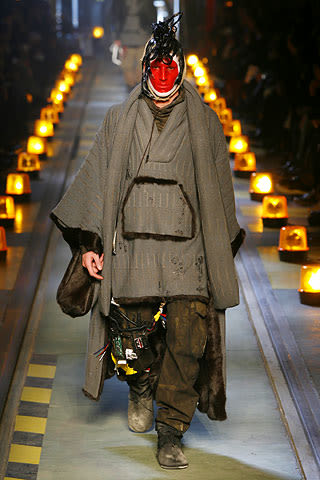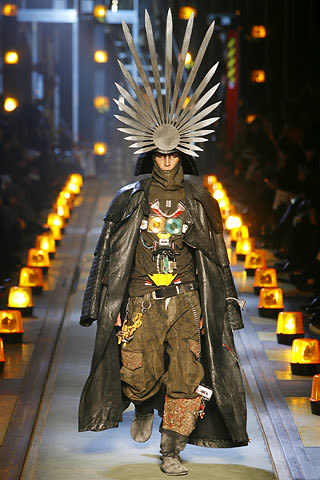 Designer: Takahiro MiyashitaSeason: Spring/Summer 2009
Number (N)ine is one of those brands that ended way before its time, but in designer Takahiro Miyashita's final collection, it almost felt like he was trolling. The inspiration appears to be culled from a combination of that
Starburst Berries & Cream commercial mascot
and uh...
this guy
. Plenty of these clothes are meant for Never, never land... as in "Never never wear these."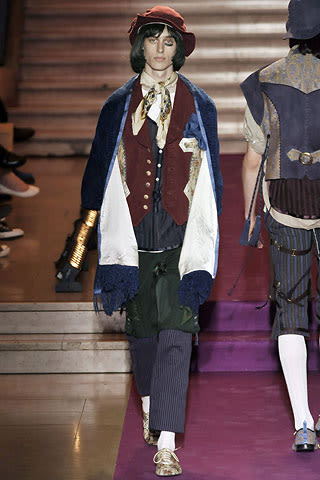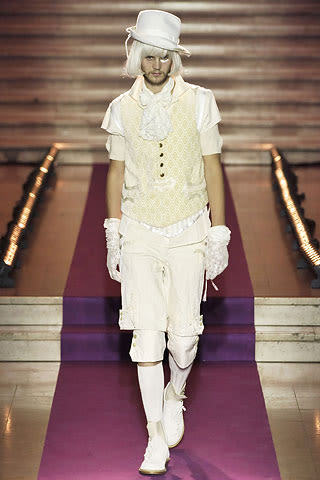 Designer: J.W. Anderson
Season: Fall/Winter 13
J.W. Anderson is one of the fashion world's most respected new designers. While he designs some amazing clothing, his latest fall collection attempts to challange the very definition of menswear. Frills, skirts, and crop tops featured prominently in the avant-garde collection, and while it made a statement about gender identity in fashion, one statement it certainly didn't make is "wear me."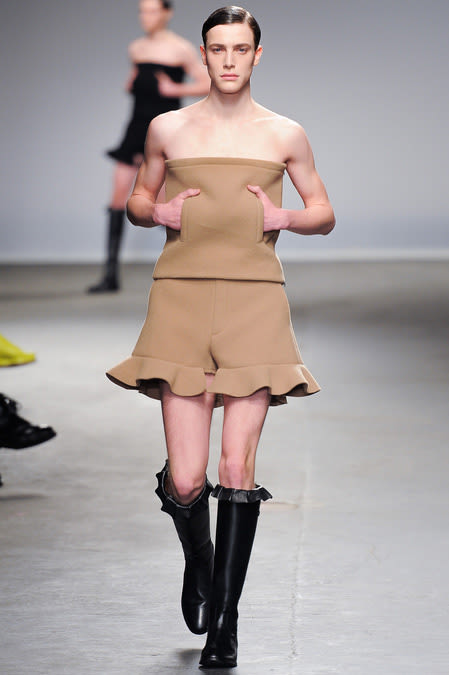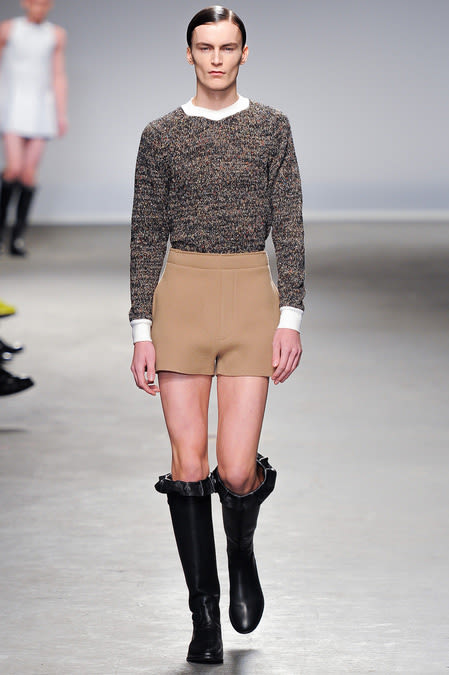 Designer: Phillipe and David Blond
Season: Fall/Winter 2012
The Blonds design team is made up of two brothers. They focus primarily on the wild, whimsical world of womenswear, which is reflected in their flamboyant men's offerings. Red fur-covered motorcycle jackets? Shimmery golden tank tops? Brocade leggings? It's hard to imagine the kind of guy who would actually dress like this.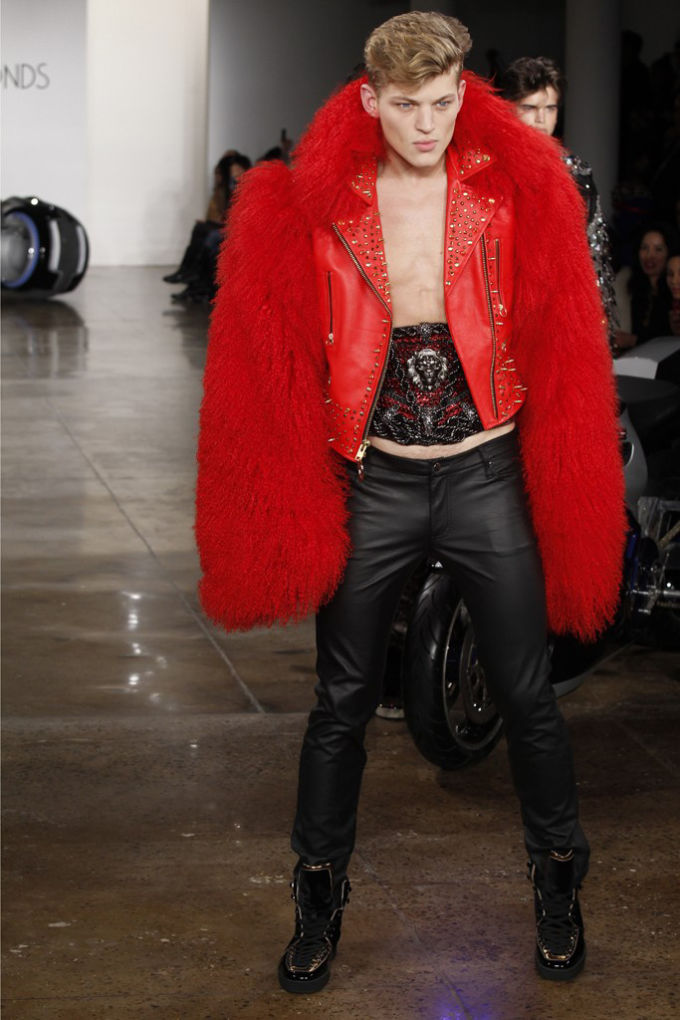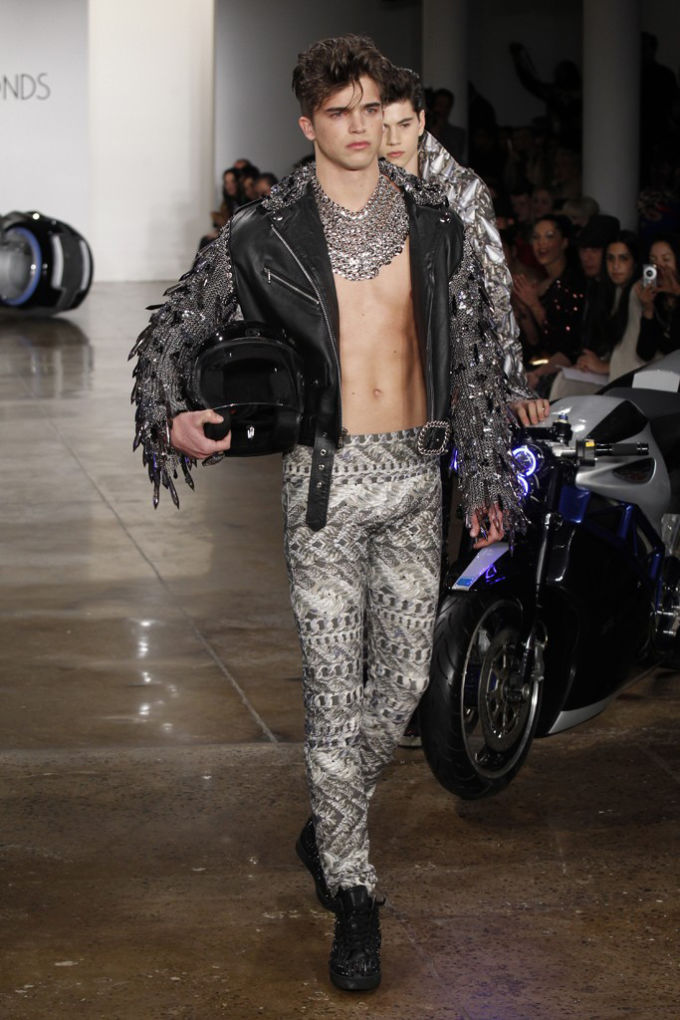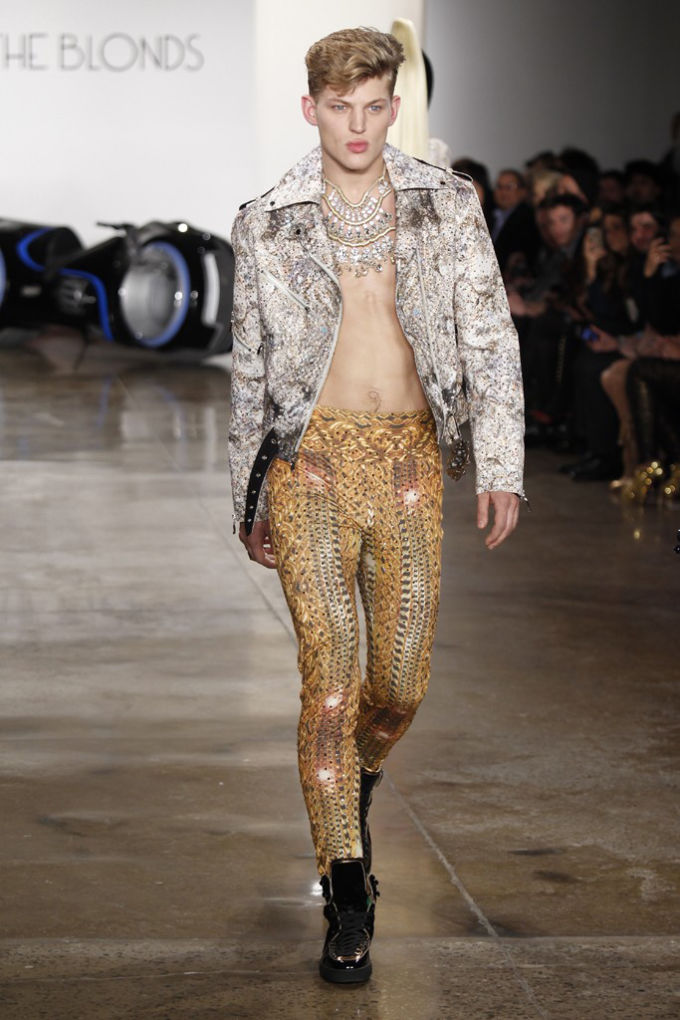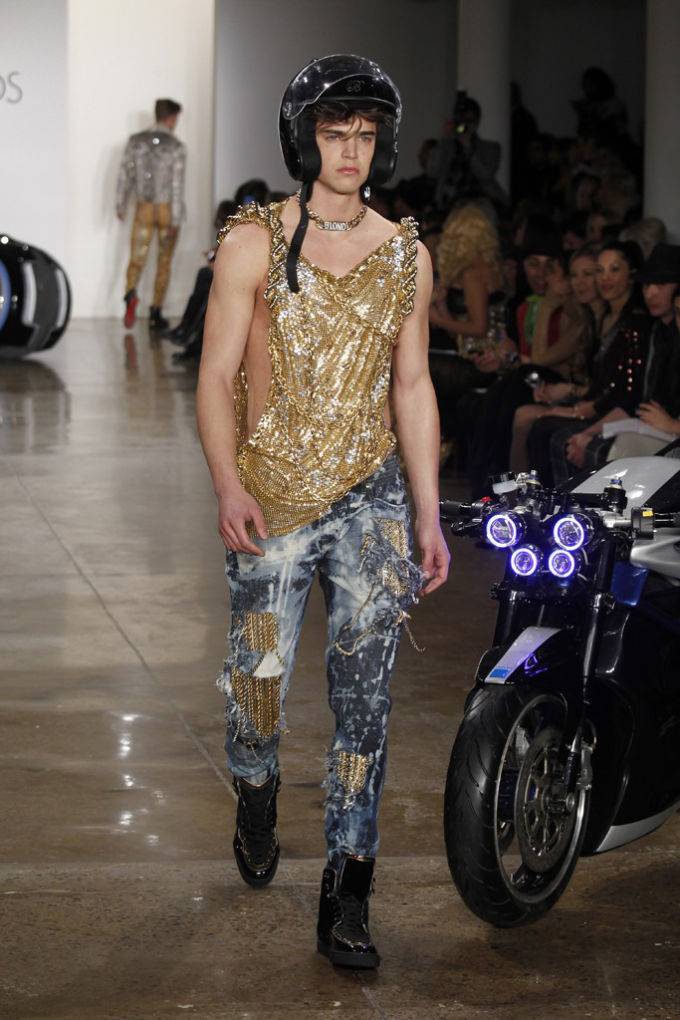 Designer: Maison Martin Margiela Design Team
Season: Fall/Winter 2012
Fur poncho? Sure if you're an eskimo. Leather poncho? Sure if you are a misguided, fashion-loving rapper or a fancy ninja. All that and more walked down the Fall 2012 Margiela runway, and while we wouldn't wear these particular pieces, there were a couple of more nuanced garments that found their way onto our wish lists.