The blonde hair, blue eyed Steven Dehler is never afraid to express himself. You can find the California-native most nights dancing at one of West Hollywood's most popular spots, The Abbey, or hanging out with his group of friends, wearing custom designed apparel. On Instagram and Twitter, Dehler is vocal about his opinions and is not afraid to show off a body that, besides the occasional pizza cheat, he works hard to maintain.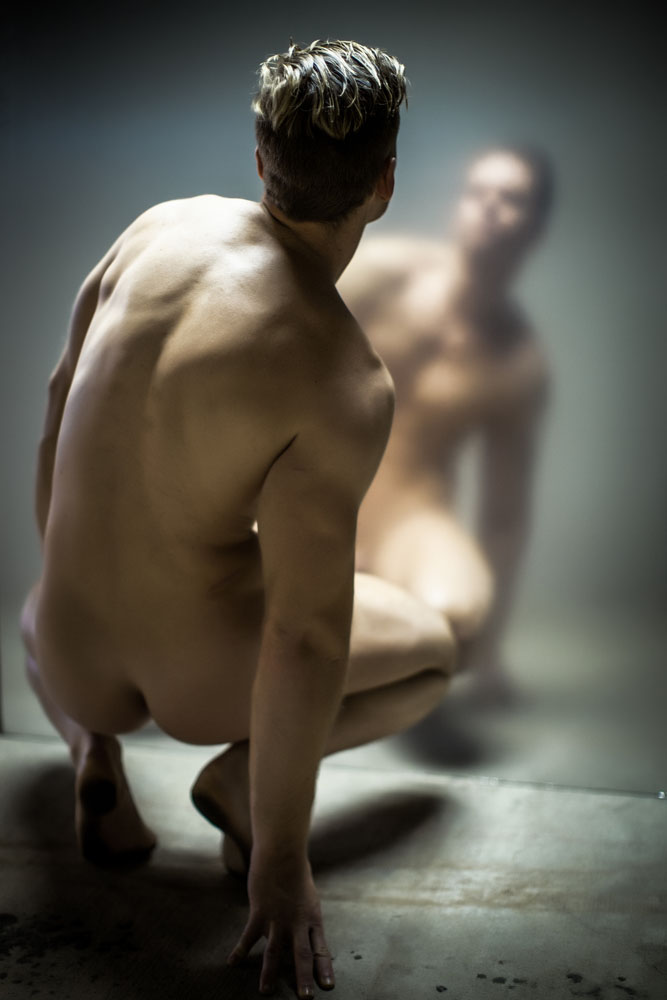 Actually, we caught up with the model right after a rigorous workout. "Sorry if I sound a bit winded," he said over the phone on Wednesday afternoon last week. After he took a moment to catch his breath, the model, who has worked with such underwear companies as Andrew Christian, Timoteo, and Freedom Reigns, began to open up to us about his experiences as an underwear model, going commando, and growing into a confidence in himself that he didn't have when he was younger.
It would also be remiss of us if we didn't get the scoop about one of the most important women in his life: Britney Spears.
Born/Raised: 25 Minutes From Los Angeles, California
Current Location: West Hollywood, California
Astrological Sign: Aquarius
Relationship Status: Single
Height: 6'0"
Weight: 180 lbs
Chest: 42"
Waist: 30"
Shoe Size: 10 1/2
Hair Color: Blonde
Eye Color: Blue
Ethnicity: German/Irish

Timoteo…is the company I actually got started with. I helped them out with a video recently for a Magic Trade Show in Las Vegas. I worked with Timoteo the longest than with any of the other underwear companies. I have a lot to thank him for. So, every time he needs a campaign done, he just needs to give me a call. I'm more than happy to do it because he has helped me so much in the last five years or so. The first time I got noticed through The Underwear Expert was through Timoteo.

My first time on an underwear shoot…I was super nervous. It was probably five years ago for Timoteo. I had no idea what to expect. I have done photoshoots before but none of them were for an actual designer. I wasn't nervous about being naked on camera or in underwear on camera. It was nerve-wracking because I wanted to make sure the designer got what he wanted.

My favorite pair of Timoteo underwear…are my Timoteo Pig Skin underwear. Timoteo came out with a line of clothing called Pig Skin. Now, it 's Cell Block 13. There was another underwear company that used that name, so Timoteo had to change it. I have one of the original pairs. There are only a couple of pairs out there.


My favorite style of underwear…is square cut. But, honestly, I'm not wearing underwear unless I am dancing in it or modeling in it.

I usually go commando because…it's always been the most comfortable for me. I like to sleep naked. Dancing in underwear isn't super comfortable. So, when I'm not working, I like to let myself breathe.
In modeling, implied nudity…is fine. I've modeled nude plenty of times. I don't care about showing my butt. I don't do frontal nudity. I've stuck with that principle over the years. But, it's my own view. I don't hold anything against anyone that does it. But, for me, I find the suggestive a little bit more of a turn on then it being all out there.
The transition from underwear model to menswear model is…difficult. I would show up to castings. They would like the idea of something on me, but the proportions aren't always what they need. The clothes would fit my waist but not my arms. Or designers would try to get me into something like a pair of leather pants, and they won't go up my thigh. It's hard because, unless they fit the clothes to my body size, I can't just show up and have them throw something on me. Last LA Fashion Week, I walked for Michael Cinco. He designed some for Britney Spears. It's always fun to work with someone that got to work with her. He was able to get me into some clothes. It was refreshing for once that I didn't have to be completely naked even though I was just in a jacket. I was semi unclothed, but, I will take what I can get.
Britney Spears…is amazing. She was the first album I bought when I was in sixth grade. When all of the other boys loved her for how hot she was, I actually liked her music. She was the first artist I ever actually followed. I like music I can dance to.


My favorite Britney song…is a toss up between "Toxic" and "Gimme More."

The best underwear to dance in…use more swimsuit fabrics then standard underwear blends. For me, it's mostly because I sweat a lot when I dance. The underwear shows you sweating more than a swimsuit would. I dance at the Abbey, and we have a Marco Marco underwear uniform.
Meeting Kathy Griffin was…fun. It was a random gig. She was super nice. I was really nervous for the rehearsal, but, once I got in my underwear and paint, I felt comfortable. The paint had a bad reaction to my skin, though. I had to stay in doors for a couple of days. Only downside of getting body painted is not knowing if you are going to get a reaction to the kind of paint being used.
My favorite costume was…one a friend made for me in an hour. I do think the one of me as Subzero was pretty cool. I'm a nerd. So, I love costumes from video games and what not. The year I dressed up as Subzero, our themes at The Matinee were Mortal Kombat and Super Mario. So, it was a lot of fun to be in those costumes and feel like a kid. But, my favorite costume came from my friend Marco. I was hosting an event at a club last minute recently and was like "You can make me anything. I trust you to make it look good." The outfit was simple and sleek. It reminded me of the Matrix. I liked that it was one of a kind, and I didn't know what to expect.

For Halloween last year…I dressed up as Ash Ketchum but called myself "Ass Catch'em" since I was wearing a jockstrap. Only in West Hollywood.


My favorite Pokemon is…Charizard.


To get me to shoot photos with you…it has to be something I haven't done. A lot of photographers see stuff that I have done, and it inspires them to do something similar. But, I can only do so many photos in Malibu. I don't need the same photo from a different photographer. I look for a collaboration of ideas. Someone who tries to come up with something neither of us has done.

Photographer Paul Boulon…brings out the best in me. He's one of my best friends. I shoot with him all the time. We try to do something new each time. A lot of photographers have their own style and way they shoot. They don't go outside their realm. But, he's good at doing it catered to the model and to experiment to do new things.
Having fans…is a concept that I'm getting used to. I'm not used to the idea of people following me. But, its always flattering. I am more than happy to take photos if people come up to me and say they know who I am and stuff. It's still kind of weird for me to think that happens to me. I'm just doing my thing. Doing what I enjoy. It's nice that it gets well received.
In college…I was an Economics major. I went to the University of California in San Diego. I had always wanted to model and got a contract to do so in London, but, I wanted to finish school first. UCSD is more of a biochem school, and I am more of an artistic person. The major I wanted to choose was more in the realm of music. They didn't have that as an option. I chose a major I could finish in a fast amount of time. It was pretty boring. I had no intention of doing anything in economics but I wanted to go to college.
When I was growing up...I used to play on the monkey bars with the girls. We would do tricks, spin, and twirl. I would come to find out that some of the kids would call me Steven "Gay"ler behind my back because of it. They'd pick on me. In High School, I was introverted and shy. I wore baggy clothes because I was underweight. I was six foot and 140 lbs. I also had a pimply chin. It wasn't until I hit my early twenties that I got comfortable with myself. Now, I swing around on bars, work less hours, and get paid more than the people that bullied me back then for something I liked to do. I want people to know it gets better. It takes time. You just have to be strong in your self.
My pal Detox from Drag Race is…so talented. Gogo Dancers and Drag Queens are all friends with each other because they all work together. I've done a lot of events with Detox. We did one event last year where we were all dressed up as Mortal Kombat characters. We all run in the same circles. She has become one of my good friends. She knows what she wants. She goes for it. She's a really hard worker. She's never in town and when she is she's working. It's a great quality.