Author, Teacher and Model, Chris Campanioni
Chris Campanioni is an American writer of Cuban and Polish descent. He is also a model, and a former journalist. He was born in Manhattan and raised in New Jersey, studied English literature and journalism at Lehigh University, and graduated from the MA program at Fordham University in May 2013.
He teaches English literature and fiction writing at College of Staten Island and Baruch College. To date, he has written a novel about fashion and the media titled
Going Down
(Aignos, 2013), a collection of poetry and memoir titled
In Conversation
(Aignos, 2014), and
Once in a Lifetime
(Berkeley Press, 2014), a film transposed in four acts. He has also been photographed for various clothing lines and editorials, and participated in several print and television campaigns, along with runway shows in Manhattan, Miami, and Rio de Janeiro.
Tell us, how much modeling have you done since we last "sat down" and chatted?
Chris Campanioni: I have shot a good deal more with C-IN2 since we last spoke; I've always shot the initial campaign for underwear newbie Skulls & Bones. We shot on location in Long Island's Lido Beach and it was beautiful. They are a great pair of guys who are Brooklyn-bred and really hungry, so we got along great. We'll be shooting their second campaign together, again with Harol Baez, this winter on location in Sonoma.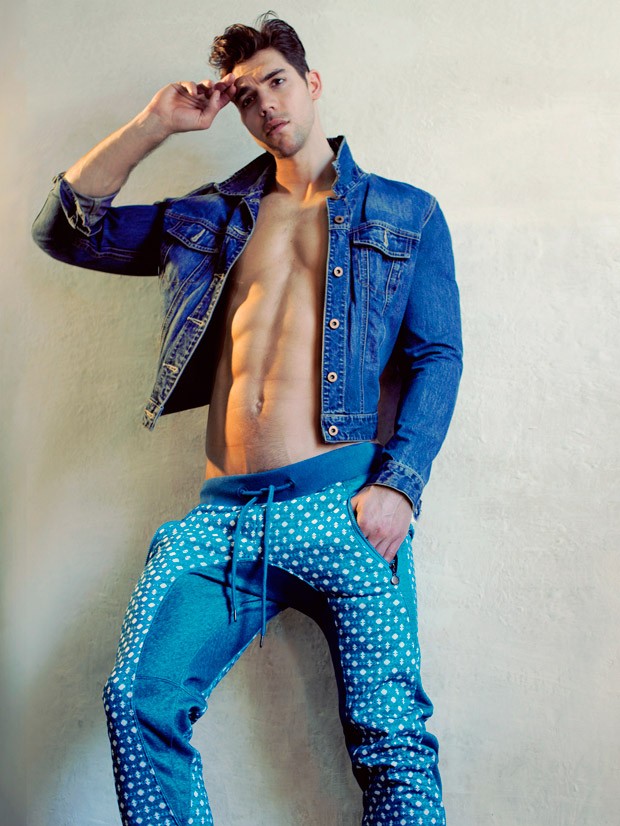 Tell us a bit more of your family at C-IN2 underwear. They definitely have your support.
CC: Yeah, C-IN2 is a great company which has grown a lot and gone through a series of changes since I began shooting for them, which was back in 2007. One thing that hasn't changed is our relationship; the group of people, namely Greg Sovell, Taek, Viktor, and Kristen, have always been around and been there for me as I have for them. It really does feel like visiting family whenever we are in the studio together. Except my family never pays me this well, and they don't adjust every crease of my underwear when I move.
You have a great relationship with photographer Harol Baez. Tell us how you two met, how this relationship flourished and how you keep your friendship strong.
CC: We actually met through mutual friends; Harol used to be a model and so the industry, especially in a place like New York City, is quite small. We shot with a lot of the same photographers and eventually, when Harol decided to switch roles and go behind the camera, we began chatting on Facebook about connecting in person and trying out some ideas for an editorial. Since then, we've shot at least half a dozen times, and each time has been more fun than the last. I think we work so well together because we have a lot in common; we're really proud of our Latino heritage and we also know how to have fun while we are working. At the end of the day, it doesn't even feel like work, but we've been able to produce so much together since 2011, which was when we first shot.
I'd like to remind our readers and fans of your many accomplishments. Let's start with the fact you teach creative writing and English literature at Baruch College and College at Staten Island. How do your students react to having such a young and good-looking professor, a well-known model, no less?
CC: I haven't been on my ratemyprofessors.com page in awhile, but I do know that the departments and my students really appreciate my approach to teaching, based on the feedback I've gotten. Teaching is really a rewarding job, particularly because it inspires so much creative output; when the seminar is over, the real work begins.
How do you juggle modeling, teaching and writing full-time?
CC: I hardly sleep, sort of like the protagonists in my books.
Speaking of writing, your new book,
Tourist Trap
, just came out Aug 27. Tell us what the feedback has been like so far.

CC: Well, it's really fresh. I was fortunate to get a good deal of buzz for it based on advanced copies before it was released so now I'm kind of really interested to see how readers will react now that it's finally out. I can probably tell you more in a month or two.
Is the
Tourist Trap
a new genre for you? Critics have called your book a "mixture of John Le Carré and Ian Fleming but with the emotional, coming-of-age valency of Salinger." That's quite a mouthful!
CC:
Tourist Trap was definitely my first attempt to re-evaluate the thriller/spy genre, a category of literature and film that I grew up really enjoying and one that was especially popular at the time when I first wrote the novel, in 2006. I was particularly conscious of Dan Brown and his two popular historical fiction novels, The Da Vinci Code and Angels & Demons, and I wanted to use those generic conventions to re-write a coming-of-age story, not unlike Going Down, but with a great deal of historical facts and social and political theories woven in.
Your fiction and poetry have garnered many wonderful accolades. How do you remain so humble? (I've seen your poetry recitals on YouTube, and you come across very down-to-earth and extremely likable.)
CC: I'm glad you feel that way! I've always tried to be accessible and approachable but I think there is a tendency in the literary—and academic and fashion—worlds to sometimes be aloof. So fans, readers, and students often express their surprise about how down-to-earth I am. I think it's always important to stay humble, no matter what path in life you choose or what road you've found yourself walking down.
What's next for Chris Campanioni?
CC: I just accepted another teaching position at Pace University, teaching sophomores about writing across the disciplines. I teach poetry and justice at John Jay and I'm still teaching about the Internet and intimacy—a course I created—at Baruch College. I have a memoir in the works called Death of Art; I actually just sent it off to my agent a week ago. She will be really busy this fall, trying to sell the memoir and also the third novel in this fashion/culture industry series of mine: Fashion of the seasons. I have a finished poetry manuscript, which would be my third published if I can find a good publisher for it. That one is called Rules to Love By and I'm shopping it around as we speak, so we'll see!
You can follow Chris on Instagram (
@chrispup
) and Twitter (
@ChrisCampanioni
).