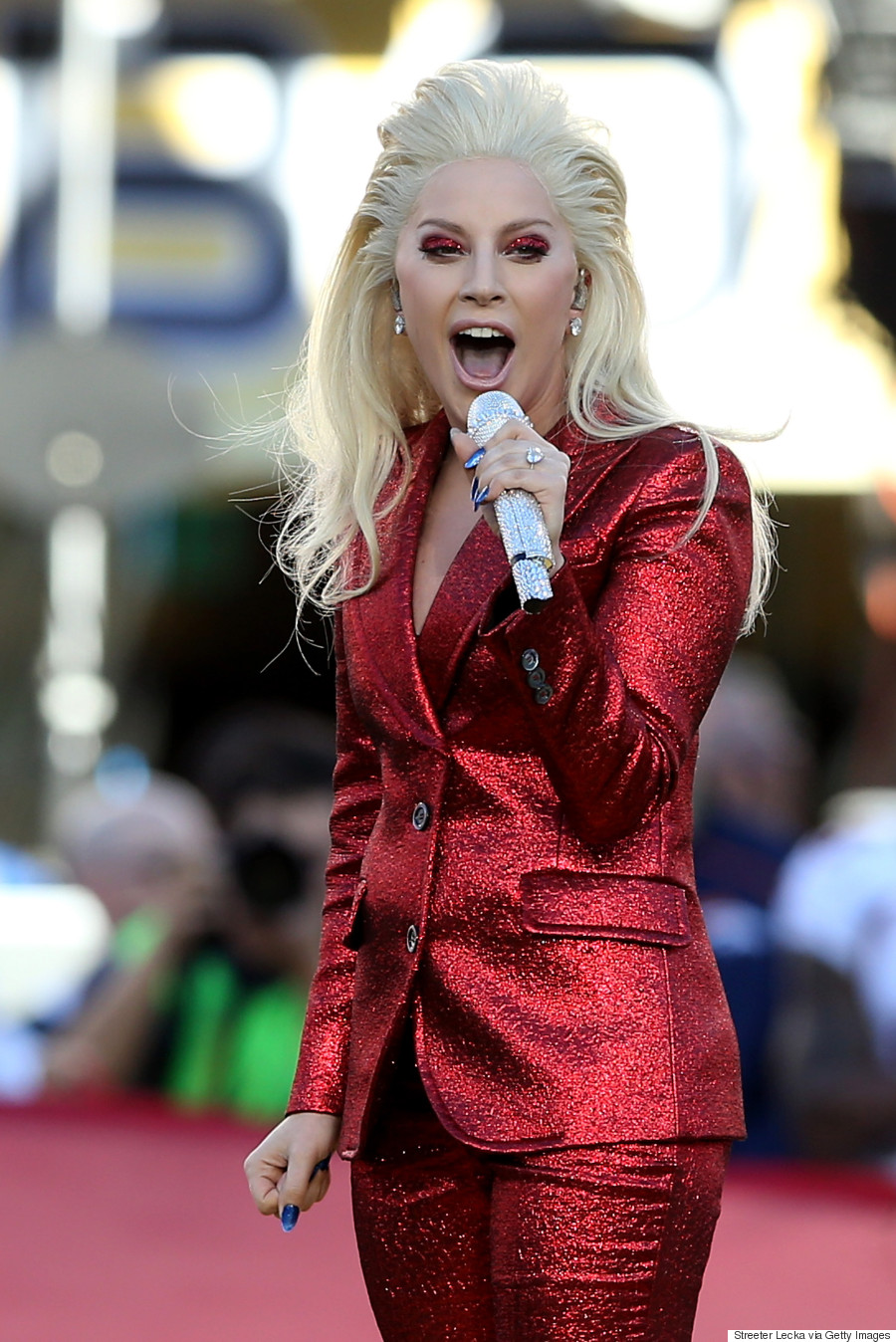 Lady Gaga, a six-time Grammy award winner who recently won a Golden Globe for her role in "American Horror Story: Hotel," is delighting fans at Levi's Stadium with her classical rendition of the national anthem at Super Bowl 50.
Known for outrageous outfits, Gaga did not disappoint. Clad in a bright red Gucci sparkly pantsuit and red eye shadow, she added her own flourishes to an animated "Star-Spangled Banner," several times eliciting cheers from the crowd. She held her last note so long she was drowned out by the United States Navy flyover.
In a red-spangled suit, with red-spangled eye shadow, Lady Gaga belted out the American national anthem for Super Bowl 50 between the Denver Broncos and Carolina Panthers.
An expected audience of 190 million Americans, plus a massive worldwide audience including Australia, watched her sing The Star Spangled Banner at Levi's Stadium in Santa Clara, California on Sunday.
Gaga, who said that performing the anthem was "one of the highest honours of my career", gave an impassioned rendition.
The six-time Grammy Award winner was accompanied by Academy Award actress Marlee Maitlin who performed the anthem in American sign language.
"This particular Super Bowl, because it's 50, is so different than any one that I've been associated with and probably will be different than any one in the future," said Mark Quenzel, a senior vice president of NFL Network, which produces the pregame and halftime shows.
Ahead of her performance, the star revealed that she had re-watched stars like Christina Aguilera and Whitney's performances.
Singling out the late star, Gaga said: "For me, it was Whitney Houston. When I was little, I used to stand at the top of my staircase and sing along with her version.
"At home, the more I would sing it, the more my dad would say, 'You're getting pretty good, kid.' So to be here now and to sing it to America, it's just wonderful."