Following the unveil of Versace's fragrance campaign for its newest cologne, Dylan Blue, we take a look at the film directed by fashion photographer Bruce Weber. Inspired by old films centered around mixed martial artists, HE sets up Dylan Blue's advertising star, Trevor Signorino to vie for the attention of Gigi Hadid.
As a fragrance, Dylan Blue boasts a woody aroma with hints of citrus, bergamot, grapefruit and fig leaf. Easily described as Mediterranean with aquatic notes, the new scent also features violet leaves, black pepper, saffron, and papyrus.
Dylan Blue is the essence of the Versace man today. It's a fragrance full of character and individuality, an expression of a man's strength and also his charisma. I love how it takes traditional notes and scents and makes them totally modern, totally fresh for today, and tomorrow.



What results is a GIF-worthy black & white film, which showcases Trevor joined by fellow models Alan Jouban, Louis Solywoda, and Filip Sjunnesson. Adding some authenticity to the outing, fighters Nic Thompson, Travis Conover, Adam von Rothfelder, Lukasz Grabowski, and Levi Morgan are enlisted as well.Talking about the art direction of the advertisement, Weber shares, "I've been watching lots of movies lately where the actors are mixed martial arts fighters. It seems like they are always proving themselves, so that the women characters will fall in love with them. I thought it would be interesting to do some photographs and make a film that dealt with this kind of relationship".
A stunning group of chiseled male models fight over supermodel Gigi Hadid in a new commercial for Dylan Blue, the latest fragrance by Versace.
Directed by Bruce Weber, the feature length spot shows the gang of models, led by breakout beauty Trevor Signorino, beating the hell out of each other in a boxing ring, walking around town in slick identical suits, and locking lips.
At around the one-minute mark, two models exchange a violent and homoerotic kiss before one punches the other in the face.
"I've been watching lots of movies lately where the actors are mixed martial arts fighters," said Weber in a statement, explaining how the film aims to show a more sensitive and vulnerable side of men.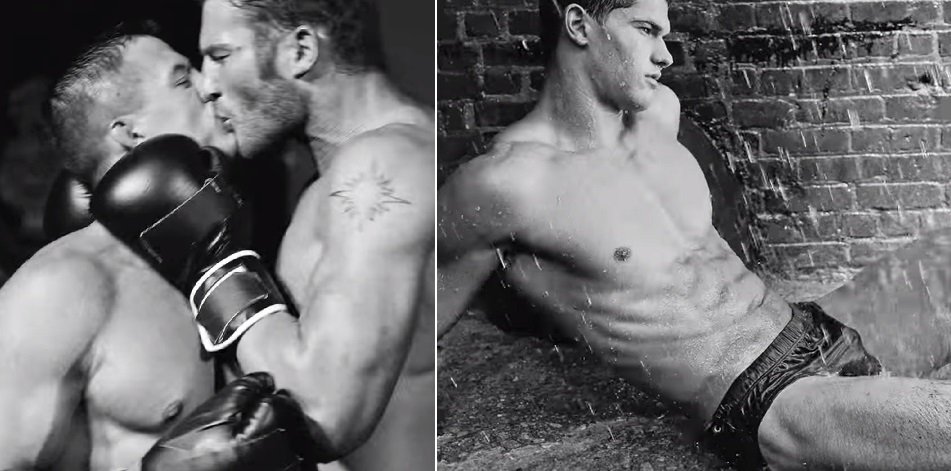 He added: "It seems like they are always proving themselves, so that the women characters will fall in love with them. I thought it would be interesting to do some photographs and make a film that dealt with this kind of relationship. Many women I know really respect the sensitivity and vulnerability of men. I wanted to show that men can have these qualities while remaining very strong and disciplined—like great athletes—and still fall in love with the girl of their dreams."