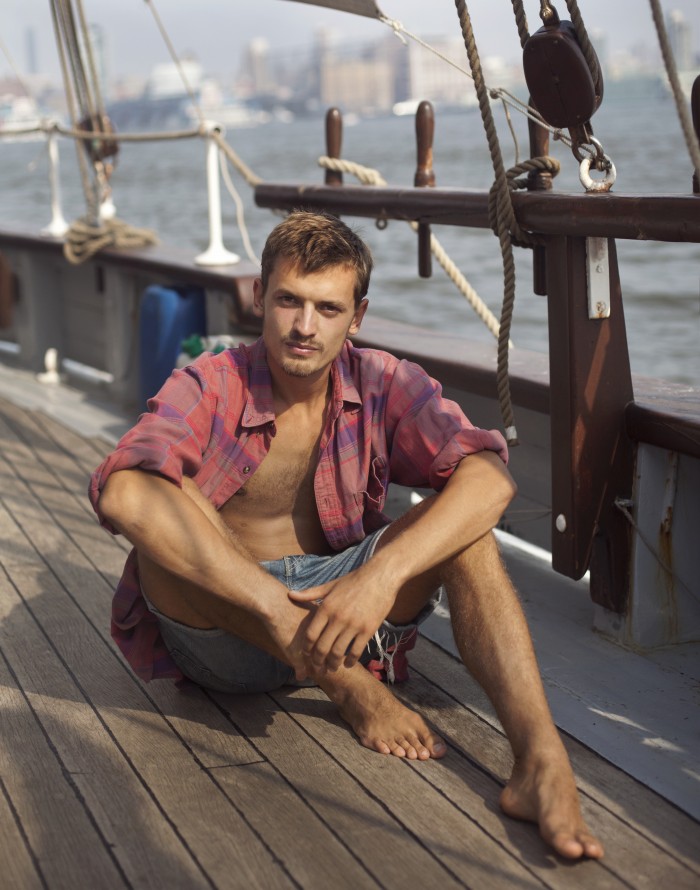 When Eddie Klint left Copenhagen last July, instead of hopping on a plane for New York or a train to Paris, he boarded a boat and took to the Øresund. Klint, best-known for his many seasons as the face of Prada, was setting off on a year-long trip circling the Atlantic, a journey that took him from Europe to Africa and both Americas and is coming to an end this month. Like Daria Werbowy—who, coincidentally, also fronted a long succession of Prada campaigns, and spoke about her
love of sailing in a recent issue of T Magazine
—Klint seems to feel the pull of a particularly powerful form of wanderlust, the kind that makes someone spend months navigating a decades-old ship across ocean swells and down the Amazon in pursuit of novelty and escape. Klint talked with me during his recent stop in New York about his time aboard the thirty-meter Opal.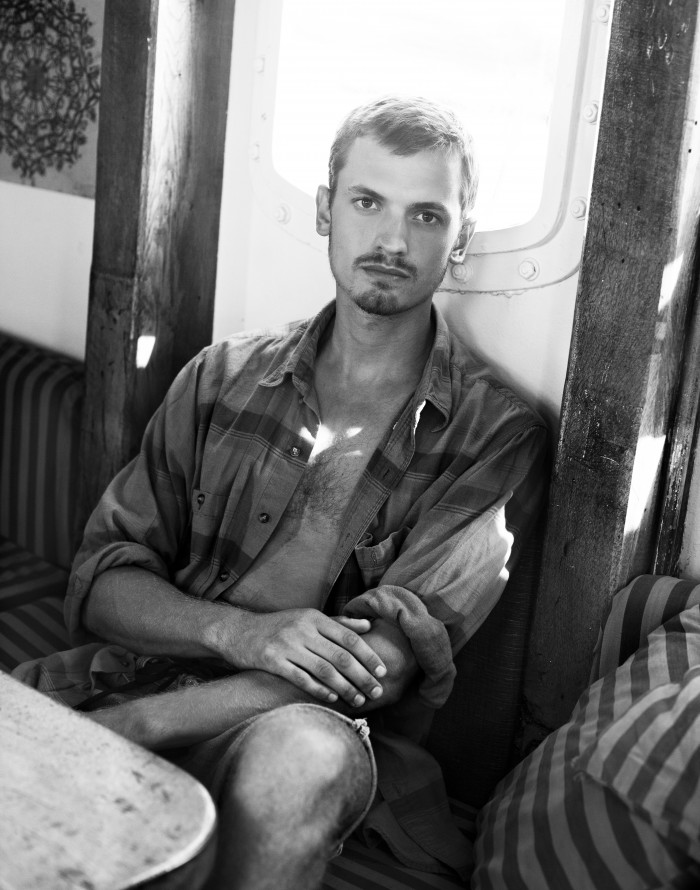 What was your favorite part of the trip so far?
Eddie: The places I found the most interesting were the places that were most foreign to me. Like Morocco and Cape Verde and Brazil, Belém especially.
Is this the first time that you've taken a sailing trip like this?
Eddie
: Nope. Well, this is the first time it was this long, but this same ship, Opal, was on a two-year trip twelve years ago. My relationship to the boat is that my dad helped build the boat so I've always been sailing with the ship since I was a kid. Twelve years ago I did my first long trip. My brother, my dad, and I flew down and sailed with the ship for three months in Venezuela and Cuba. So that's where it started, because since that trip we have always been talking about going on a trip again. We've kind of been hoping and waiting for our parents to do another trip, but they never did. So eventually we became old enough and figured out that, ok, we have to be the ones that plan the trip. So I guess it's like an a longtime dream coming true.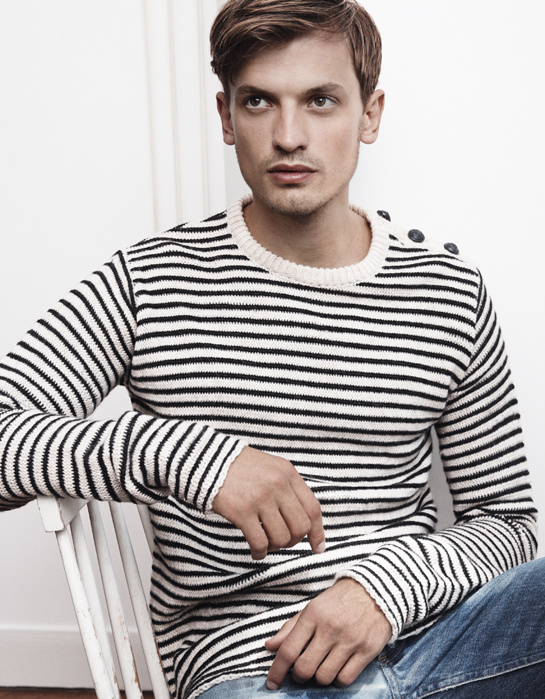 You said at one point you had over twenty people on the ship. Who were all the other people with you?
Eddie
: Well, the people basically are just friends, family, and other people who contacted us. A lot of the people are friends and family that we already knew, but quite a few have also been people we didn't know that contacted us regarding the trip and then they came along. So a lot of new friends as well. But it's basically just been open for everybody. It's vacation on a shared basis—if you can call it that. It's not charter or anything, nobody makes money off it. We all just split the bill, and everybody pays for the food and maintenance. And then we do most of the work ourselves and then buy the materials to fix the boat up. So that sets us apart, it's unique. But it's also a lot of work to maintain a ship like this.
Do you think you want to go on another trip like this?
Eddie
: Yes, definitely.
Where would you go?
Eddie
: Next time I would go to the Pacific. I would start from Denmark, just cross the Atlantic, and then sail through the Panama Canal and out into the Pacific. Definitely. It should be amazing. Also, it's the largest ocean and they have so many thousands of islands. I had a friend who did a two-year stint in the Pacific, and he came to one island and they hadn't seen any foreigners for one and a half years. So you can get to these places that are still really untouched. Yeah, I love the Pacific.
Does your father build ships for a living?
Eddie
: He used to. He was educated as a shipbuilder, and he does more carpentry now. People don't get wooden boats these days, it's more fiberglass so there's not really that much work in boatbuilding. So he does carpentry now in general, mostly kitchens. He did the kitchen on the ship.
How did you learn to sail?
Eddie
: I never went to a class. I've never sailed on a small boat, it's always been this boat. I've had a few trips on smaller boats, but mostly it's been this boat, so I know how to sail this really well because I grew up on it. But a lot of things are different from smaller boats to bigger boats; you need a lot more people to do stuff with all the sails that maybe one or two guys could do on a smaller boat. But that's basically just how I learned, growing up on this. Every summer, my whole life, we've been doing summer trips sailing around Denmark and Sweden.
Yeah, I was surprised at how big the boat is. I was expecting something more like those…
Eddie
: A small one? (Laughs) Yeah, I know, it's a big one. It's a really cool story. Magnus, the one we did the trip with, his dad and a friend bought the hull of the ship in the '70s and it was just a fishing trawler. I can show you pictures. It was almost a wreck—really, really old and destroyed. It didn't have a mast, anything at all. It used to have just a motor and that was it. They bought it in their early 20's, and then they wanted to renovate it and transform it into a sailing vessel and sail it around the world. They thought it was going to take two years and then be done and then they were going to sail around the world. But it took them ten years. (Laughs) So, it took a bit longer. They didn't have any money so they did everything themselves. That's also what is so charming about the boat—everything you see, they built it. And there's pictures in the albums we have on the ship of the way they went to the forest and cut down the trees for the mast and took the bark off. My dad was in the same school as Jacob, the owner, so he was in on the project from the beginning, helping to build it, even before my brother and I were born.
Where are you heading next?
Eddie
: We're going to head down the Hudson River and then up the East River and then out through Long Island Sound. We are going to stop at a place called Mystic Seaport and get the last things fixed on the boat and get all the food. That's going to be actually the longest stretch on the whole trip, the one from the States to the Azores in the North Atlantic. That's about 2,000 miles, so it could be like three weeks on the ocean depending on how fast we go. It's all about the weather.
Thank you Eddie!!