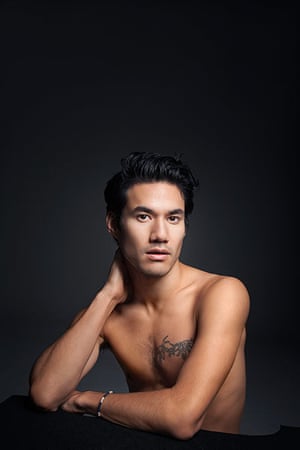 T
hough many names are buzzed about each season it takes a rare talent to capture the attention of fashion editors, the celebrity set and buyers alike. In just two seasons Joseph Altuzarra has risen from designing under Ricardo Tisci at Givenchy to fronting his namesake line,

Altuzarra

. With a focus on sharp tailoring, body conscious looks and the kind of easy glamor that never goes out of style, Joseph's line is quickly becoming a favorite of women on the pulse of what is fashionable. Just ask Carine Roitfeld and Anna Wintour – both of whom sat front row at his Spring show. I

catched up with the rising star to talk about how he got his start, what defines his process and just why Tom Ford is such an influence.
Joseph Altuzarra, a name that frequently falls upon the lips of the current Fashion frenzy. Paris born, and yet you chose to work with American designers in your early days, what was the initial attraction?
Joseph Altuzarra: I think that, like most things, it was about being at the right place at the right time. I sent my resume to Marc Jacobs after College, but if I hadn't gotten an answer I would have probably gone back to Paris, and tried my luck there. I was hoping I could stay in New York though. I love New York, I love the energy and the freedom. And I love my life here.
New York is indeed the center of it all isn't it? Or so it feels…. It's funny how we spend so much time trying to decide what it is exactly that we want to do for our "career", and yet more often than not when discussing a success story with someone, they will always tell you "I never really planned to do this". You yourself started off as an Art History major and never really planned to work in Fashion. What initially inspired you to send that resume over to Marc Jacobs?
JA: I have always been interested in fashion, from a very young age, and I drew a lot, and was an avid magazine reader. But I was also interested in a lot of other things: music, cinema, art. I wasn't sure what I wanted to do, because there are so many things that are fascinating to me. In the end though, fashion is the best thing for me, because I'm able to learn and discover different things, and incorporate them in my work.
I think an interest in all of those things is definitely a major contribution to the makings of a talented designer..I was at the show this season and aside from the beauty of the collection itself and the incredible casting, the hair and make up was another personal favorite detail of the show. Is that something that you also take part in when the decision is being made on the "look" etc?
JA: Absolutely. It's something I discuss with my team fairly early on, and that we kind of mull over, think about. Laurent Philippon does the hair for the collection, and Tom Pecheux does the makeup, and they are masters at what they do. I also think that at this point we are so comfortable with each other that we can have very free conversations about the direction we think we should go in, and new ideas. And of course, working with Stefanie Stein, who did the casting, was crucial in taking us to the next level, and developing our image. In the end, it is a team effort, and I am lucky to be

working with incredibly talented and hard working people.
The Show this season was styled by a Priestess of the house of Vogue Paris, Melanie hyunh, how did you two initially come together and start working with one another on the show?
JA: Melanie and I have known each other for a while, from living in Paris. Initially we were just really close friends, which is why I asked her if she would help me with Altuzarra. She understands me better than anyone, and has an incredible eye. And it's important for me to be able to have an honest dialogue with someone about the direction of the season, and vision for the brand, not to mention whether or not she would wear it!
I don't think it's a secret that the New York Fashion week is quite thrilled to have you showing here, but naturally it's come up in question as to why you would choose to show the collection here in New York over your hometown of Paris?
JA: I think Paris is such a wonderful and inspiring city. I draw all the collections there, and do research there, and work with a primarily French team. But New York feels like the right city for me to show in today. It embraces new talent, encourages it, and builds a very strong community of designers, editors, and buyers.
As a self proclaimed "child of the 90s" (me too!) You've attributed some of your early inspirations to designers like Jil Sander and Helmut Lang.. What other aspects of yourself do you affiliate with being a child of this particular decade?
JA: Mainly, some bad taste in music and movies!
(Laughs)..That is all too true of a statement! Tom Ford is an incredible Icon and impeccable Talent internationally respected in our business, its been said that he is your idol in the fashion industry… Obviously there are many reasons to hold him so high but what is it to you that make's him an idol?
JA: He was really able (and still is) to make clothing that was both very desirable, while driving fashion forward, which I think is a rare talent. In the end, he made women look beautiful. And you have to admire how strongly and one-mindedly he developed a brand.
One of my favorite things that you've ever said is that you like working with people who are at the start of their careers, so that way you all get to grow up and succeed together. When this economic crash started, everyone was wondering if it would push us back to powerhouse names or if it would make room for the new. In a sense I feel as though it's done both at once, what's your perspective on this?
JA: I think working with newer people is very important to my process, because we all share the same drive to succeed and to innovate. I can't build Altuzarra on my own, and the strongest way to do it is to create a family of peers who you can grow with over time.