Man dubbed the 'world's hottest teacher' repeatedly removes his shirt in a mesmerising 60-second video - despite previously complaining about being 'objectified'
Footage of Pietro Boselli taking his shirt off has had nearly 27,000 views:
The Italian 27-year-old won a search for the world's sexiest teacher
Advanced maths tutor has complained about being objectified in the past
Takes his t-shirt on and off repeatedly against the clock in YouTube video
Boselli has said he is 'too good looking' to be taken seriously
Have you ever wondered how many times a muscle-bound model can take his t-shirt on and off in 60 seconds?
Italian maths tutor and model Pietro Boselli, who was once named the world's sexiest teacher, has taken it upon himself to find out in a video clip that's now racking up thousands of views online.
The 27-year-old, who has complained of being objectified by women in the past, manages to remove his shirt - and expose the abs that landed him an Armani campaign - a grand total of six times against the clock.
Wearing a black t-shirt and jeans, the model can be seen tugging his shirt over his head time and again as a timer ticks away in the corner of the screen in the YouTube

clip

that's been viewed almost 30,000 times.
Boselli, who lectured in maths while obtaining his PhD in engineering at University College London, originally tried to keep his modelling career a secret because he feared people in academia would look down on him.
But his other career came to light after student admirers discovered his shoots online.
Boselli, who was scouted as a child in Negrar, Italy, shot to fame when he was entered into a search for the world's sexiest teacher by his students and won.
Growing up in Italy, the young Pietro was scouted by Armani Junior which started off a double life of studying hard for his exams as well as posing in front of the lens for fashion shoots.
He calls himself a 'nerd' and says that his studies were his priority growing up, forcing him to turn down lucrative jobs that would take him away from his books.
His students at UCL, where he taught while studying for his PHD, did eventually discover the fitness fanatic's secret, after Googling him.
Pietro says he knew his students had cottoned on when they started to take 'sneaky' images of him while he was at the front of the lecture hall.
However, the teacher-come-model says he tries not to let the attention go to his head, saying that people 'think he is too beautiful to ever take seriously'.
The buff academic now has 1.5million followers on Instagram, but the fame and fortune has come at a price.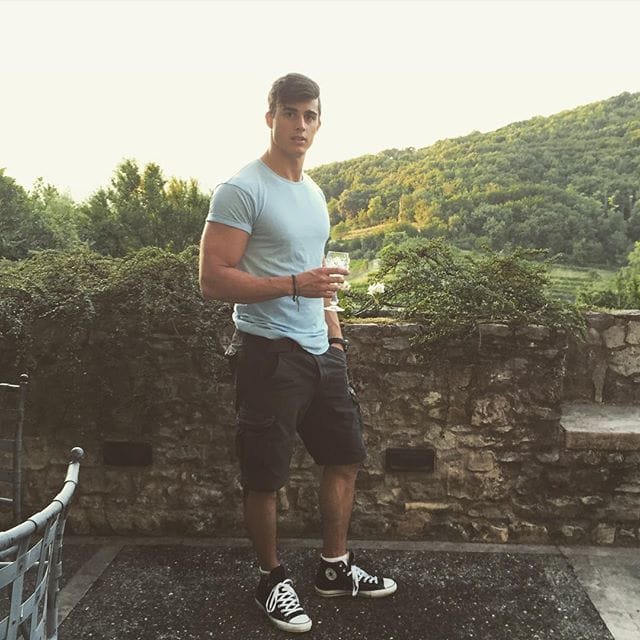 Pietro has voiced frustration in the past over his modelling achievements dwarfing his academic capabilities.
And he's also taken issue with the many women who struggle to keep their hands to themselves around him.
He told Grazia magazine that women had grabbed his bottom when he became famous, and has said to be put on a pedestal as 'a hunk' was 'demeaning'.