Same-sex love scenes once proved too scandalous for much of mainstream TV, but in the sex-driven plots of soap operas, gay and lesbian characters have enjoyed some moments of intimacy worthy of a parental warning. With

the push to crowdfund a fourth season

of steamy gay soap Dante's Cove, surely more heat is on the way. Until then, here's a list of some of daytime and prime-time soaps' steamiest same-sex moments to date.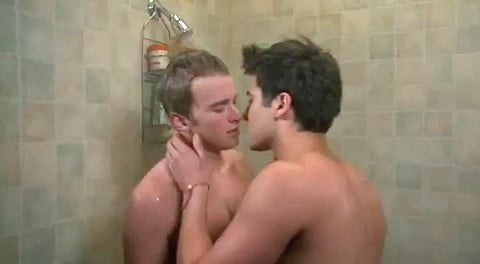 1. Will and Sonny's First Time (Days of Our Lives)
When Will Horton and Sonny Kiriakis, young gay members of two major families on the long-running soap Days of Our Lives, got together, it showed that commitment to the characters' sexuality than was more than a sideshow. When the two consummated their relationship for the first time, sensuality took the spotlight in a tender and undeniably steamy moments in 2012. The romance wouldn't last, with Will controversially murdered on the show last year, but viewers at least got this moment. As Sonny put it, "perfect's the word."
2. Nuke Explodes (As the World Turns)
Sometimes called American soaps' first gay super-couple, Luke Snyder and Noah Mayer were romantically linked on the since-canceled As the World Turns, but waited about two years between a first kiss in 2007 and finally doing the deed in 2009. AfterEllen even set up Consummation Clock to see how long it would take before Nuke was allowed to detonate. While the final moment was tame compared to others, the steam cred here is all about the anticipation.
3. Jude and Zero's Shower Score (Hit the Floor)
Considering the sports world's dearth of out athletes, it was a bold move for basketball-centric soap Hit the Floor to introduce bisexual forward Zero and couple him with Jude Kincade, the team owner's initially closeted son. The athlete brings his moves — and a marquee player six-pack — to a memorable shower scene between the male lovers in a 2014 episode.
4. Desperate Housewives
Desperate Housewives' out creator, Marc Cherry, made no secret that the Van de Kamp family stood in for his own, but it still stunned many viewers when son Andrew was revealed to be gay. How? Neighbor Susan, looking for her daughter, burst into a pool party and went on break up a couple necking in the pool. Initially shocked to find a male swimsuit on the deck, the bigger surprise came with the realization it was Andrew in the water with a friend he brought to the party.
5. One Life to Live
One of daytime soaps' first love scenes between two gay men took place in 2009 when Oliver Fish and Kyle Lewis stripped each other down while candles burned in the foreground. "Is it always gonna be like this?" Fish wonders aloud as fireworks explode in the afterglow. The soap got canceled two years later, so no. But on YouTube?
6. Putting a Lesbian Spell on You (Buffy the Vampire Slayer)
The first lesbian sex scene on a prime-time soap came when Willow and girlfriend Kennedy climbed into bed together on Buffy the Vampire Slayer in 2003. Proving the show definitely had grown past its high school phase, Sunnydale's friendliest witch moans as Kennedy kisses her neck; then her eyes pop open conspicuously as a hand drifts under the covers. Bewitching.
Always.
7. Beach Babes on the Sand (The O.C. )
Bisexual Marissa's first true exploration of her attraction to women on The O.C. came on the sands of California when Alex caught up with her there. While there would never be a love scene, despite Mischa Barton filming plenty of sexy time with her male partners on the show, this scene provided some waterside spark nonetheless.
8. Going Down to Mexico (90210)
Teddy struggles with his sexuality through much of 90210, first denying attraction after hooking up with Ian and then failing at a relationship with Marco. But it's in this wild hookup in Mexico where he bumps into Tripp that Teddy finally embraces his gayness. While the scene cuts out as soon as the two men reach a hotel room, the heat from bar to bed is almost enough to boil the cocktails.
9. Strawberry Surprise (Dante's Cove)
A date in the park goes from sweet to steamy in a classic Dante's Cove moment where Kevin Archer and Toby Moraitis end up rolling atop the picnic sheet. The men start by feeding succulent strawberries to each other, but soon Kevin is full-on licking his lover's nipples, his head drifting suspiciously below the camera's view. It's this sort of passion that has made viewers hungry for a new season of the show for years.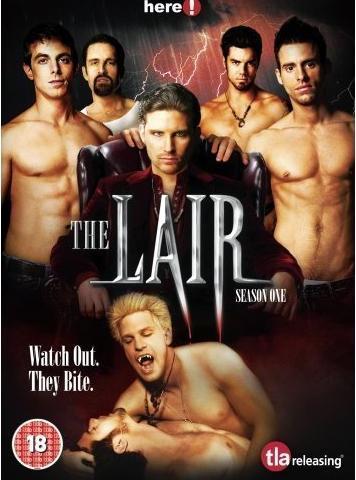 10. Lurking in the Lair (The Lair)
Before Dante's Cove, there was also plenty of LGBT love on The Lair. David Moretti and Jared Gray boiled the steam up in this third-season scene after getting turned on by some old-fashioned vampire chat and an allusion to the Monkey's Paw.
11. Living Amor a Vida
Brazilian television audiences never saw two men kissing on the air before 2014. The Rede Globo soap changed all that when Amor a Vida's Felix and secret lover Niko lock lips in the finale, then apparently run off to start a family. The physical affection had been hinted at for years, but the final smooch was a true show-stopper.
12. One Way of Breaking It to Mom (Coronation Street)
The introduction of Sian Powers in the British soap Coronation Street offered the chance for Sophie Webster to explore her own sexuality. Two years after the start of a relationship, things get heated in a 2011 episode where the two ring in the New Year in sapphic glory, repeatedly making love in Sophie's bedroom at her parents' house. The risky move gets interrupted when mama Sally Webster bursts in, bringing a whole new tension into the room.
13. Just Like This Tattoo (The L Word)
What's steamier than some office sex? While coworkers try to find Shane McCutcheon at her TV station workplace, she's actually discovering the tattoos on the body of her lover, Carmen de la Pica Morales, in one of The L Word's earliest (and hottest) sex scenes.
1
4. Lover's Spit (Queer as Folk)
When Brian and Justin finally reunite in a season 3 episode of Queer as Folk, the climax of the show proves meaningful but hardly tender. Having sex on an office desk, there's an eagerness and meaning greater than the hookups that served as a signature to this Showtime soap. Heat and joy turn up in maybe the show's peak moment of passion.
15. Minx in Motion (All My Children)
Bianca Montgomery was a celebrated LGBT treasure in American soap All My Children until the show's end in 2013. When she first went to a hotel room with Marissa, it was the first time a lesbian love affair played out on daytime TV. More important, it resulted in a steamy romp in the sheets. "I can't believe how great it was," Bianca says afterward. Audiences agreed
16. Hookalindup (The Good Wife)
Anytime bisexual Kalinda found a reason for a hookup, it certainly brought about a steamy episode of The Good Wife. Her off-again, on-again relationship with Lana likely brought the most heat to the show, including in this season 4 episode where it's clear the agent is using a variety of techniques to keep her lover in the bedroom.