When Wyatt Fuller first showed up on The Bold & the Beautiful in 2013, it looked like he was a lone wolf, not connected to any of the show's core characters – until it was revealed that he was the son of Bill Spencer – the result of a long-ago liaison with Quinn Fuller who raised him as a single mom.
Darin Brooks, whom daytime fans already knew from his time as Max Brady on Days of Our Lives, introduced the character of Wyatt to viewers and quickly made his mark on the B&B landscape.
Here are 25 interesting things you might not know about this talented actor:
1. Darin Brooks was born on May 27, 1984.
2. His full name is Darin Lee Brooks.
3. Brooks was born and raised in Honolulu, Hawaii.
4. Other celebrities who share Brooks' Hawaiian birthplace include Bruno Mars, Nicole Scherzinger, Bette Midler, Nicole Kidman, Maggie Q and President Barack Obama.
5. While born and raised on a tropical island, Brooks' family heritage is actually very European: his roots are Irish, Polish, Belg
6. Considering his Hawaiian upbringing, it's no surprise that Brooks is an avid surfer.
7. Brooks caught the acting bug as a teen and performed in the theater department at Honolulu's Kaiser High School, where one of his roles was as Rapunzel's prince in their production of Into the Woods.
8. In 2003, he moved to mainland Los Angeles to pursue an acting career.
9. Brooks' big break came just two years later, when he landed the role of Max Brady– an orphan who was adopted into one of the show's key families – on the NBC soap Days of Our Lives. His first appearance on the show was on June 21, 2005.
10. He left Days in 2009 but returned for two additional episodes in 2010, ultimately appearing in more than 1200 episodes of the show.
11. Nominated for two Daytime Emmys for his portrayal of Max on Days, Brooks won the award for Outstanding Younger Actor in 2009.
12. After leaving Days, Brooks co-starred in the three-season run of the popular (and very raunchy!) Spike TV college football series Blue Mountain State. He has also appeared on episodes of several TV series, including CSI: Miami, Super Fun Night and Castle.
13. Brooks supports the charitable efforts of Aid Still Required, an organization that extends long-term redevelopment assistance to communities around the world that have been affected by natural disasters.
14. Thanks to a successful 2014 Kickstarter campaign, enough money was raised to finance a feature film version of the series, Blue Mountain State: The Rise of Thadland, which reunited most of the original cast and was completed for a Fall 2015 release.
15. Darin Brooks made his first appearance on B&B June 21, 2013 -- coincidentally, his debut on Days was also on June 21st. (In another Days-related coincidence, he was in talks at that time to reprise the role of Max Brady.)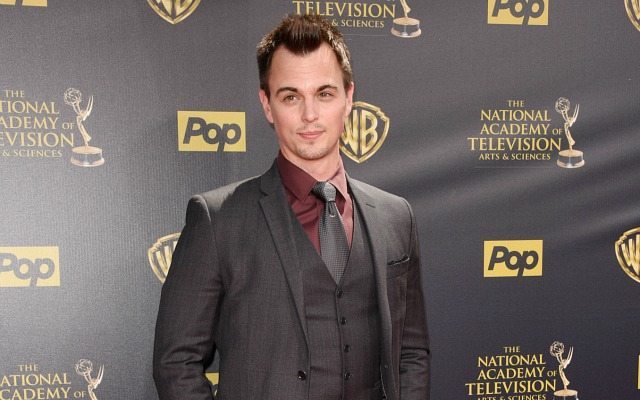 16. The character of Wyatt wasn't very clearly developed at the start, Brooks told an interviewer. "We're sort of figuring it out as we go along," he said, adding that "this is the cool part and the frustrating part as an actor, because I want to know everything about him!"
17. Viewers learned a lot (literally!) about Brooks from the moment of his unique on-air debut: he was naked, taking a shower in the woods near the Forrester cabin.
18. Once he had a better sense of his character, Brooks had this to say about him: "Wyatt has always wanted love from his father, and he feels after all this lost time [that] he wants to prove himself and be loved."
19. In order to appear in the Blue Mountain State film, Brooks took a brief hiatus from his B&B role.
20. In Blue Mountain State, Brooks portrays second-string college quarterback Alex Moran, who is as interested in having a good time while at school as he is in throwing touchdown passes on the football field.
21. Brooks, who dropped out of college after nine months, has said that shooting the Blue Mountain State TV series was "my substitute for college life, because the guys I got to work with for three seasons are like my brothers now."
22. In addition to acting, Darin Brooks is a talented singer and guitar player.
23. In 2014, Brooks appeared on DIY's home renovation show House Crashers with girlfriend Kelly Kruger (ex-Mackenzie, Y&R, Eva, B&B).
24. Brooks broke the big news of his and Krueger's engagement on his Twitter account (@THEEdarinbrooks) with the message "Well I asked her…" and a link to an Instagram photo of them kissing – in front of the Eiffel Tower.
25. The happy couple wed on March 21, 2016 in a stunning French–inspired wedding at the Halekulani Hotel in Oahu, Hawaii.