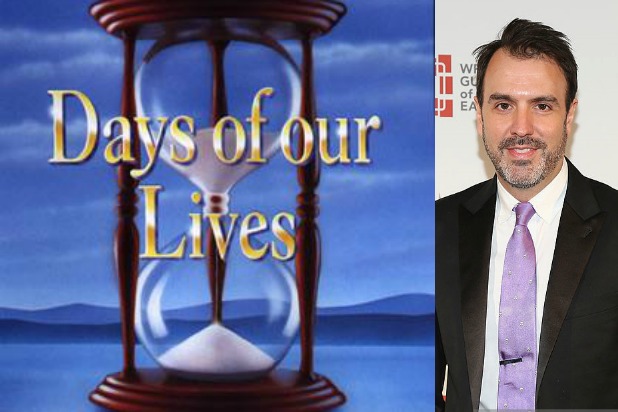 Is NBC's 'Days of Our Lives' Safe With Hire of New Top Soap Writer?
Beside ABC's struggling soap, General Hospital, NBC's own struggling soap Days Of Our Lives, tease that the NBC soap is facing another head writing change with Ron Carlivati as new head writer and Dena Higley out.
Soap Opera Digest is reporting that Dena Higley has been fired and Ryan Quan is essentially being demoted to the role of a creative consultant. Days has chosen to fill the top writing spot with Ron Carlivati.
Fans of General Hospital and One Life to Live will recognize Carlivati's name. After OLTL's cancellation, Carlivati made sure GH didn't suffer the same fate. Many soap viewers feel like Carlivati saved ABC's last daytime drama with his bold writing style. Others mostly remember his love for campy storylines, which is why he was shown the door in 2015.
However, the last placed soap opra is ready for a major change and that's a real good thing! DOOL tends to fall back on previous head writers like Dena Higley, but it never makes much of a difference in the ratings. Perhaps Days will have better luck by letting someone new take over.
Of course, Carlivati will need some help with the show's history. Fortunately, he'll have Ryan Quan for that. According to Ken Corday, DOOL's executive producer, Quan really knows his stuff. Days is bringing Sheri Anderson Thomas back to the staff as well. Like Quan, she'll be serving as a creative consultant.
It looks like they're hoping to balance out Carlivati's lack of DOOL knowledge with people who know the show's history. Anderson Thomas was a head writer and a co-head writer at Days in the '80s and '90s. She also served as the head writer of Guiding Light.
The most important news we can glean from all of this is that there's hope for Days of Our Lives. We still haven't heard any confirmation on the NBC soap's renewal, but this obviously sounds positive.
If DOOL is switching it up, there's likely a future for the show.
Carlivati and his creative consultants may be exactly what Days needs to boost the ratings. It's definitely worth a shot. In a statement, DOOL noted that everyone is looking forward to the "fresh and compelling stories these changes will bring to Salem."