Donatella Versace: 'I love being surrounded by gorgeous guys'
A survivor of the high-octane, fickle world of fashion, the designer celebrates her love of the male form.
Donatella Versace loves men. She loves to talk about them. She loves to dress them. She loves to undress them, too – sometimes more than dressing them.
But that's a tradition of the house of Versace. Her brother, Gianni, created a book titled Men Without Ties – but they were also without shirts and trousers, usually with something like a quilted bedspread or free-falling serving platter splattered with the Versace Medusa logo concealing their nether regions like a cross between an angel in a Renaissance fresco and Austin Powers. "He liked sexy men," says Donatella Versace, frankly. "And men like to be sexy. And not only gay men. I realise that heterosexual men like to be sexy more than gay men, honestly!"
It's 24 hours before the Versace autumn/winter
presentation, but Donatella Versace looks immaculate.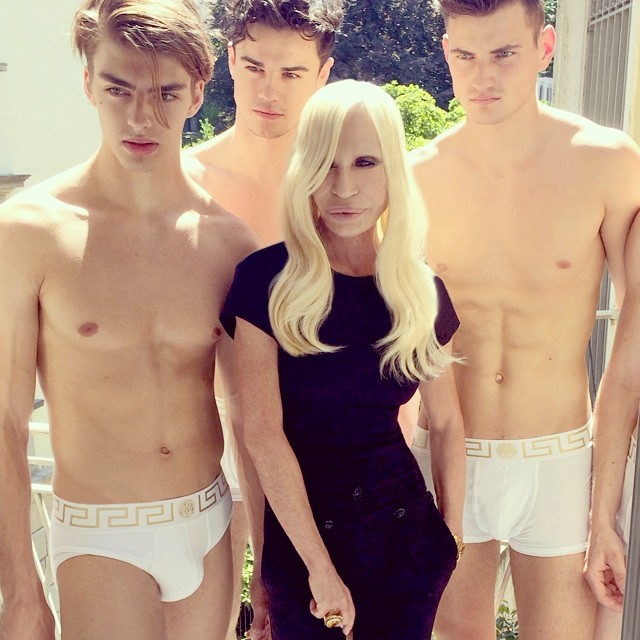 Not harassed or stressed, despite it being one of the busiest points of her year: three weeks ago, she showcased her pre-autumn Versace collection, and in a week's time will open the haute couture season in Paris with her made-to-measure Atelier Versace line. There's also the pending announcement of which of a trio of reported suitors will pick up a 20 per cent stake in the Versace company, which value the company at €1.1bn.
Versace menswear is a big part of that, which is true across the board in fashion. The emergence of China as a major force in luxury retailing has impacted global menswear sales – men make up at least 55 per cent of China's enormous luxury market, set against a global average of 40 per cent. "Gianni was the first to open a store in Shanghai – in 1983," says Donatella as an aside. "Back then, it was just Versace!" China, India and Brazil are the markets she mentions when commenting on the recent boom in Versace menswear sales, an increase she says of 46 per cent.
The surprising thing? Set those sales increases alongside the Versace collections themselves. Last winter, Donatella showed lace lingerie for men, while for summer 2013 she wrapped her man in studded gladiator belts for a collection whose inspiration was "part Rocky, part Elvis, part Mr T". Her tongue is firmly in cheek when she says that, but nevertheless one would assume it's a pretty tough sell.
Apparently not. Go into stores and it's the lavish printed silk shirts and heavily studded jackets with the eye-watering price tags that have made it on to the rails, but don't stay there for long. "The fashion of Versace men is powerful, has been powerful with Gianni. It took a moment of … down with me," says Donatella, looking a bit gloomy.
That's a reference to collections that tried to catch the mood of the moment, rather than the mood of Versace. They followed fashion rather than lead. Something, however, made Donatella say basta to everyone else's ideas – to minimalism, conceptualism and, to some eyes, to good taste – and march down her own idiosyncratic, ormoulu-scrolled path in return to Versace's heritage of ornate, Italianate over-the-topness. There were changes in the design team, while Donatella also designed a range for H&M that opened her eyes to young masculine demand for Versace's va-va-voom style. She stopped listening to other people, and did what she wanted to do. Ms Versace has never been happier, and the house has never sold more clothes.
On that quieter period, following menswear's general gist rather than setting the pace (Versace's Blue Period, we could call it), Donatella is characteristically candid. "That was a problem I had. I was confused for a while. I made a mistake. Then I rethought everything again, and now Versace men is really Versace again. I am surrounded by impossibly sexy men." She shrugs, grins. "Sorry! That's my reality! How can you think about not making them sexy?"
Donatella Versace is frank and honest. Those are the two most likeable things about her. It's why she's a fantastic interviewee – for the journalist, at least. You generally see the whites in the eyes of the house's PRs when Donatella admits to making mistakes. You see those whites again when she leans in conspiratorially and confesses she's showing cowboy chaps over underwear for her autumn/winter collection, inspired by the Village People idea that bikers are the new John Wayne. There's even a nod to the "hanky code" in vibrant bandanna-prints. That sounds pretty extreme, but it's again a part of the house's history. "Gianni, he had a lot of courage," remembers Donatella. "Gianni came out and said he was gay when it was very difficult to say that. Thirty-five years ago. Even fashion – you wouldn't say it loud. Gianni had the courage to say it loud. I'm very proud of that."
Those chaps in chaps are also a savvy business decision. "Underwear is a huge part of our business," Donatella states, by way of explanation, with a twinkle in her eye. The emphasis, in true Carry On tradition, is on "huge".
This sounds like a very, very funny conversation to be having with any fashion designer, let alone the creative head of one of the largest luxury-goods houses in the world. But Donatella Versace is very funny. She sends herself up. She camps, just a little. She does it in her shows too. She didn't send out a glitzy ode to Spartacus or that lace "him-gerie" on a cavalcade of muscled-up, polished male models without knowing the camp value of the imagery.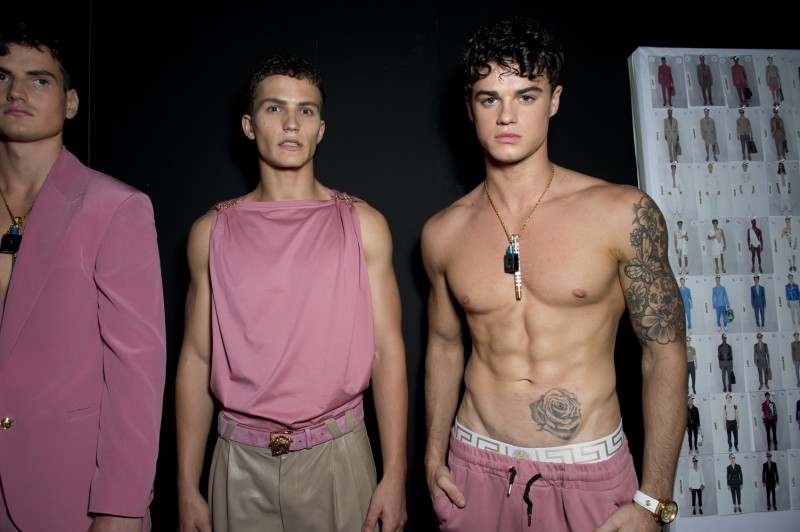 She plays up to it herself: when men are mentioned, Donatella purrs like Eartha Kitt on heat. And her description of the collection she is about to show is coloured with the humour that's a hallmark of Versace – both house, and Ms. "I think of bikers as the new cowboys," says Donatella. "We have no horses, so they have motorcycles. Renegades. Both are a very strong reference in Versace fashion, so I took those elements and tried to rework and make them contemporary. Lots of leather, lots of denim in different washes. The thing I like the most is the Cuban heel – I like the Cuban heel in every shoe. I was looking at a guy in a Cuban heel walking – like a real man! Like a Marlboro man!" Incidentally, as has been much reported, Donatella Versace, she of the nicotine-gravelled vocals, has given up smoking. Hence her lust for the Marlboro man, perhaps? She certainly always wears a heel herself, so why wouldn't her man?
Donatella's man is a very specific type – at least, the ones she chooses to embody her fashion line. "Himbo" is a phrase thrown about a lot, which is unfair. Versace's male models, however, are different from the skinny waifs favoured by many a fashion house. They're muscled, buff, wide shouldered, with barrel chests and meaty thighs. A number are soldiers, current or former, toned rather than fine boned. "We have 20 models with exclusivity, and 90 per cent have never done a show before. I see those guys as dynamic, and full of energy. I like energy. A guy who weighs 40kg has no energy!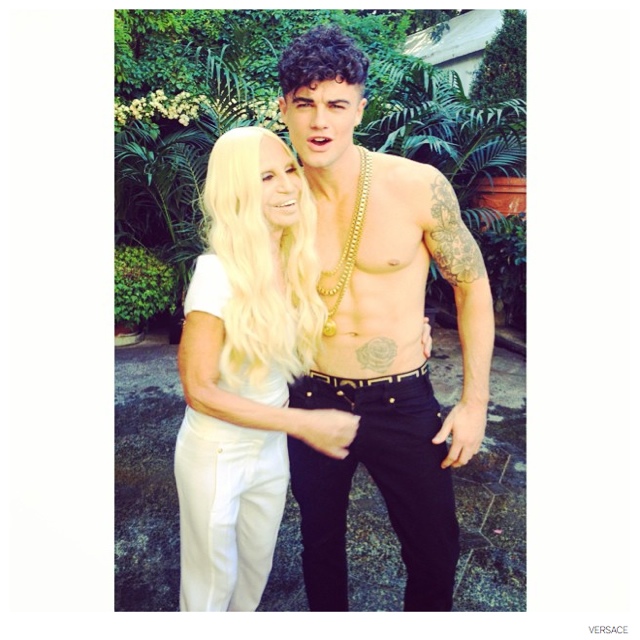 "I love designing for men," she's purring again. "I love to be surrounded by men! Do I lie?" She says this, to no one in particular, bar the multiple Medusa heads studding everything from coffee cups to faux Louis XIV fauteuils ("I can't sit in a super-modern chair," Donatella frowns. "I like the rich") in the Versace apartment on Milan's Via Gesu. The apartment is inside Versace's creative HQ, a floor above the glassed-in backyard where the show takes place on Saturday night, the soundtrack already reverberating through the building as workmen assemble gleaming motorcycle parts into a proscenium arch where those perfect models do their Marlboro man act.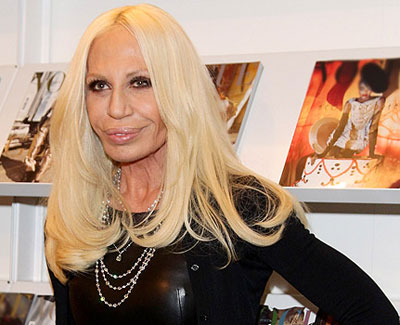 "I love being surrounded by gorgeous guys," declares Donatella. "The thing is, they don't know, not one of them know they're gorgeous. They're so humble, so totally different from the women's world." From the house that invented the idea of the supermodel, that's a pretty loaded statement, and one Donatella delivers with another grin, and a toss of her own high-maintenance and knowingly gorgeous peroxide hair. She puts her money where her mouth is, too: Donatella's ex-husband is a former Versace model, Paul Beck, whom she married in 1983 and had two children with before their divorce.
For all the fun and campy frolics, however, Donatella wants to deliver a specific message with this menswear show. "I was very determined that men today are liberated. With all this oppression going on in the world, through your clothes you can be who you are, or who you want to be in the moment." She pauses, the eyes twinkle. "Well, through my clothes."
Curriculum vitae
1955 Born 2 May, in Reggio Calabria, Italy. Her mother, Francesca, is a dressmaker; her father, Antonio, is a personal financier.
1977 Studies literature and languages at Florence university, following the footsteps of her elder brother Giovanni "Gianni" Versace, who had studied architecture in Florence.
1979 A year after Gianni Versace opens his first fashion boutique in Milan, Donatella moves to Milan to work with him as a design assistant. She later assumes a public relations role as well.
1983 Marries the American model Paul Beck who becomes an advertising executive at Versace.
1986 Her daughter, Allegra Beck, is born.
1989 Her son, Daniel, is born.
1997 Gianni Versace is shot dead aged 50. He is murdered on the front steps of his Miami Beach mansion by US serial killer Andrew Cunanan, who commits suicide a few days later.
1998 Hosts her first couture fashion show for Versace Atelier at the Hotel Ritz Paris, in memory of Gianni.
2000 Separates from Paul Beck.
2001 Launches the fragrance Versace Woman.
2005 Admits to US Vogue that she has been addicted to cocaine for "the last 18 years".
2008 Made the honorary chairman for London's Fashion Fringe.
2012 Hosted her first fashion show since 2004, Versace's Couture Comeback, in Paris.
2013 Donatella is played by the American actress Gina Gershon in the TV movie House of Versace, based on the novel by Deborah Mills, broadcast in October.
2013 Designs a new Versus collection in collaboration with award-winning rapper M.I.A.