Did you know that Katherine Kelly Lang has been portraying Brooke Logan Forrester on The Bold and the Beautiful since the very first episode aired on March 23, 1987? Well, that's a fact, and here are 25 other things you might not know about the actress who plays the role that B&B describes as "the show's quintessential heroine."
1. Katherine Kelly Lang was born on July 25, 1961. (She's a Leo.)
2. Her name at birth was Katherine Kelly Wegeman -- she got her professional name from her mother, actress Judy Lang.
3. Lang's father, Keith Wegeman, was a long-jump skier in the 1952 Olympics -- and the body (but not the "Ho Ho Ho" voice) of the Jolly Green Giant in TV commercials in the 1960s.
4. Katherine Kelly Lang has showbiz in her blood: in addition to her acting mom, her grandfather, Charles Lang, was an Academy Award-winning cinematographer during Hollywood's Golden Age.
5. Lang spent much of her childhood in Northern California, but as a teenager her family moved and she graduated from Beverly Hills High School.
6. Lang was born on the same day as her former B&B co-star Bobbie Eakes (ex-Macy).
7. Married and divorced twice, Lang has three children.
8. Her eldest child, Jeremy, was born on September 5, 1990. Julian was born on October 11, 1992. Daughter Zoe was born on May 11, 1997.
9. Lang's son Jeremy played the role of her on-screen son, Eric Forrester, Jr., from 1990-1995.
10. Julian might not want this to be public knowledge, but he appeared occasionally on B&B in 1993 … as Brooke's infant daughter Bridget.
11. Katherine Kelly Lang made her own on-screen debut in the 1979 roller disco comedy Skatetown, USA, appearing opposite future film heartthrob Patrick Swayze.
12. Before signing on as one of the original cast members of B&B, Lang appeared on a number of TV series, including episodes of Happy Days, The Fall Guy and Magnum, P.I.
13. She also took on the role of Gretchen on B&B's sister series, The Young & the Restless. (Lang returned to Y&R a number of years later in several crossover appearances as Brooke.)
14. A born-and-bred California Girl, Katherine Kelly Lang very appropriately was featured in the music videos of "Getcha Back" and "It's Getting Late" by The Beach Boys.
15. In 1996, Lang starred in the film Subliminal Seduction, a sexy sci-fi thriller, opposite Ian Ziering (ex-Steve, Beverly Hills 90210). The film was only shown on television in the US, but it was released theatrically overseas with the title The Corporation.
16. While Lang was on maternity leave in 1997 her B&B contract was up for renewal -- and she considered leaving the show, going so far as to tell the executive producers they should look for someone else to play the role of Brooke. Fans around the world breathed a sigh of relief when she changed her mind and signed a new contract.
17. Lang has been a horse enthusiast since childhood -- her childhood dream was to become a jockey -- so it's no surprise that she is a seasoned equestrian and owns several Arabian horses.
18. A lifelong athlete,

Lang has competed in 25-mile and 50-mile cross-country endurance races

, cycling races and a number of triathlons. In 2013, she won her age group category in the Hansen Dam Triathlon and Los Angeles Triathlon.
19. When B&B was shooting in the United Arab Emirates in 2014, Lang took part in the Abu Dhabi International Triathlon, and finished the wearying course (swimming, bike riding and running) in 5 hours, 28 minutes and 16 seconds.
20. It took more than 25 years, but Lang finally received her first Daytime Emmy nomination in the Outstanding Lead Actress in a Drama Series category in 2014. (She was nominated for Outstanding Supporting Actress in 2013.)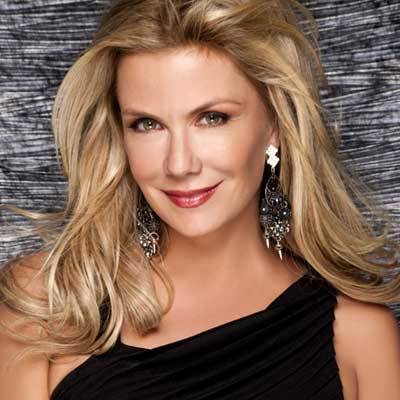 21. It wasn't for her portrayal of Brooke, but Lang did take home a Daytime Emmy in 2014 -- as one of the producers of the online soap Venice: The Series, in the category Outstanding Drama Series: New Approaches.
22. In late 2014, Lang took 3 months break from B&B; during this time she appeared on the Italian version of Dancing with the Stars. (While she was gone, her B&B character was, fittingly, sent to work for a while at Forrester International's Milan office.)
23. Katherine Kelly Lang returned as Brooke to the B&B canvas on January 22, 2015, the day after the show celebrated its 7000th episode.
24. Like Brooke Forrester, Lang also has a hand in fashion design – in addition to her acting career, she has a kaftan clothing line – limited edition beaded silks for formal occasions and prints and solids for more casual wear – which are available online at katherinekellylangkaftans.com
25. When asked by an interviewer how she manages to balance motherhood, her acting career, business ventures and athletics, Katherine Kelly Lang summed up her personal philosophy this way: "Never give up, never slow down and just keep going."