Oil wrestling (Turkish:yağlı güreş), also called grease wrestling, is the Turkish national sport. It is so called because the wrestlers douse themselves with olive oil. The olive oil is applied to every inch of the body and is designed to prevent your opponent getting any sort of grip as you grapple.
To win, you need to flip your opponent on to his back. The wrestlers, known as pehlivan (meaning "hero" or "champion") wear a type of hand-stitched lederhosen called a "kispet" (, which is traditionally made of water buffalo hide, and most recently has been made of calfskin.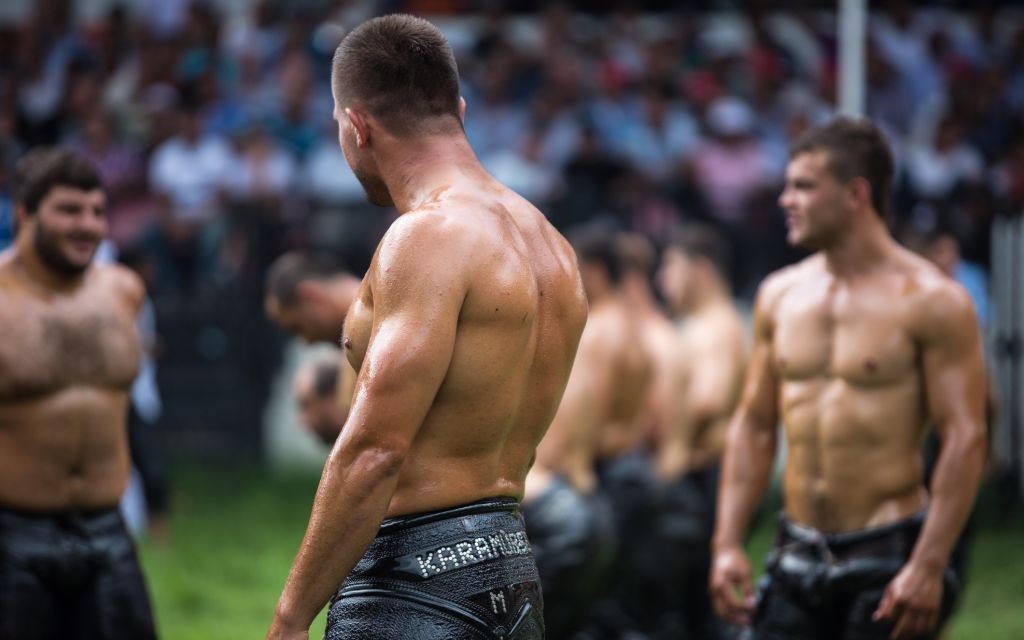 No wonder why the gays are so into this sport, greased masculine men are wrestling of course. But infact, oil-wrestling has nothing to do with "gay culture" whatsoever. Turkish people have been usually remembered during thousands of years as a warrior nation on the lands which they conquered.
The preparations for the war of Turkish army were mainly sports and wrestling. The origin of the Turkish wrestling is based on the era when the Hun Empire was established. At that time the wrestling was organized as "Karakucak". After the Ottoman Empire passed to Rumelia, it started to be organized as greased wrestling without losing its self and soul and became an extant tradition.
Allthough, oil wrestling is not welcomed to be associated with the gay culture, it definetly attract gay audience. Especially the "bear lovers" come to Turkey for Kırkpınar Oil Wrestling. Traditionally, the Kirkpinar Wrestling is organized at the last week of June each year in Edirne (Northwest of Turkey).
The majority of these Turkish oil wrestlers are definitely heterosexual. The biggest mistake any Gay tourist can make is to assume these oil wrestlers are gay and make a move on them. It is a recipe to get punched in the face or worst, so please respect these men and do not make assumptions.
In Turkey, and much of the Middle East, men have grown up being very physically close to each other (due to the cultural separation of the sexes), but that does not mean they are gay or open to gay contact. Always remember the golden rule to be safe in Turkey if you are gay: Unless they make a move and initiate a gay encounter, do NOT assume they are gay, and do NOT make the first move.