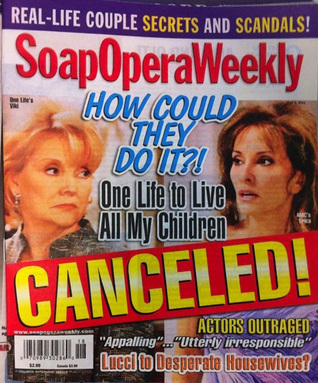 The death of soap operas:
What does it say about television?
ABC announced two of its three remaining soap operas, All My Children and One Life to Live a few years ago. They were being replaced with food-centric chat show The Chew and makeover-themed reality show The Revolution now cancelled. ABC already cancelled two more shows in the former time slot of One Life to Live in 5 years!!
When One Life to Live went dark in January, there only be four English-language daytime soaps left: ABC's General Hospital, NBC's Days of Our Lives, and CBS's The Young and the Restless and The Bold and the Beautiful. Why is the venerable TV genre dying? Here, five theories: Only CBS 2 dramas are doing best in the Ratings and #1 rated for 30 years!! ABC and NBC are struggling...
1. Networks are cheap (and cruel)It's no coincidence that The Chew"much less expensive, unscripted programs,"

says Marshall University's

The Parthenon

in an editorial

. The networks are all ditching daytime dramas with "costly actors, directors, and writers... talented enough to create gripping story lines" week in and week out, claiming the public prefers disposable TV trash. "That's just cold," says Jaime Weinman in Maclean's. Soaps are "among the most immersive and personally involving forms of broadcasting," with lifelong, hardcore fans.
2. There's better TV out there nowOh, come on, says Linda Holmes at NPR. A makeover show with Tim Gunn? been cancelled and didn't last very long. A foodie show with the "absolutely delightful Top Chef contestant" Carla Hall? This is good stuff. Besides, soap operas have outgrown their usefulness. "There's so much serialized drama on TV that's really good now" that it's hard to justify five-day-a-week melodramas.
The shrinking number of stay-at-home women can now "watch reruns of Law & Order on cable," or TiVo, or the internet. Those are options "the first audiences of All My Children and One Life to Live didn't have."
3.

Soap isn't advertising on daytime TV anymore!!!


Don't forget why they're called soap operas, says Phil Villarreal in The Consumerist.
They were created as "advertising vehicles for cleaning product manufacturers to promote their goods to homemakers," and the final nail in their coffin came when Procter & Gamble decided to scrap soap opera ads in favor of social media efforts. With no sponsors, the soap opera's "time is now slipping away like sands through the hourglass."
4. "Real life" overtook soapsThe draw of soaps is "becoming immersed in the details and drama of a set of people's lives," says James Poniewozik in TIME. Well, thanks to today's "larger tabloid culture," we can get the same kind of "serial storytelling, personal intrigue, and schadenfreude" by gawking at Lindsay Lohan or Charlie Sheen or "the likes of Kate Gosselin or the Kardashians." Soap operas are "running out of lives to live." HERE are Some of the very BEST PROMOTIONS for SOAP OPRAS thru the years!!!